When funds are running low and the time comes where you need to think about finding a student job, E4S is packed full of options for you – full time posts, part time jobs, evening and weekend, or even just seasonal work while you're on holiday from university or taking a year out.
So you need to consider the places that are most likely to employ students; where are vacancies likely to pop up?
Well, where does most of the population of the United Kingdom do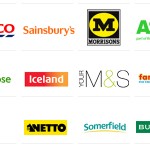 their weekly or monthly shopping these days? Yes, at some point, most of us will find ourselves pushing a trolley up and down the aisles of a rather large out of town supermarket.
If we've not got time (okay then, maybe we can't face going shopping today – it's been a tough day) we'll sit on the laptop and order our shopping online so that the nice man in the van can drop it off for us.
Supermarkets are pretty central to life in the United Kingdom so it makes sense that job opportunities for students should crop up from time to time. There are tons of advantages to supermarket jobs and in this post we'll have a look at those advantages as well as the many different types of jobs you could do – believe it or not, even if it's just for part time student jobs, working for a supermarket chain is not just about scanning customer shopping through the till or refilling shelves.
Which Supermarkets Employ Students In The UK?
Well, the answer to that question – and the good news for you – is that all supermarket chains have potential work for students, both temporary and permanent. Christmas is fast approaching and while some supermarkets will have already recruited their Christmas staff, there's oodles of opportunity for you to get a foot in the door. If it is temporary Christmas work you're looking for, why not check out our Christmas Jobs 2013 blog post for supermarket jobs and other other seasonal work opportunities.
And, as there are so many supermarkets of all shapes and sizes in the United Kingdom, chances are, you have a store very local to where you live – meaning transport costs, or indeed, getting to and from your place of work, shouldn't be too much of a problem.
The 'Big' Guys
You know the ones we mean. These are the supermarkets that we all know and most of us will have shopped in one or all of them at some point because they have large stores all over the United Kingdom. Some even have smaller convenience stores in towns and villages, nationally. In alphabetical order, Asda (Walmart), Morrisons, Sainsbury's and Tesco are the four largest supermarkets in Britain (Tesco is the largest).
Tesco Jobs
Fast heading towards 6,000 stores all over the UK, Tesco employ nearly half a million people – surely there could be supermarket jobs for students and graduates there, right?
 Well, as Tesco have also branched out into urban centres, too, they now have Tesco Metro – smaller stores which could well be close to your student accommodation – as well as the super-sized out of town Tesco Extra stores.
For more detailed information about Tesco jobs and careers, take a look at our Tesco company profile.
Asda Jobs
Asda could be a perfect option for students who are looking for regular seasonal work just to replenish the old bank account. They operate a dedicated programme where you work up to eight weeks a year, just covering the busy periods such as Christmas and Easter. Obviously, there are loads of other jobs at Asda that would suit students and graduates. If you fancy yourself working here, check out our more detailed information for possible student jobs at Asda.
Sainsbury's Jobs
Currently on the up is Sainsbury's – now over 900 outlets nationwide – which can only mean good news for potential job opportunities for students or for graduate career options. There is a whole host of different jobs at large supermarkets and, as with Tesco, you've no doubt seen the Sainsbury's local stores in urban centres too. Click the link for more information about possible Sainsbury's jobs.
Morrisons Jobs
Employing over 130,000 staff all over the United Kingdom, why not be a part of the Morrisons team if there is a branch of the supermarket close to you? Supermarket jobs at Morrisons, as with the other larger supermarkets, come in the form of seasonal and part time posts, right up to dedicated graduate trainee programmes. And of course, we've got more information for you right here about working at Morrisons.
And It's Not Just The Big 4…
Yes, the supermarket world doesn't end at our big four. There are so many possible student jobs and graduate career opportunities in other supermarkets around Britain – and just because they are smaller companies doesn't necessarily mean there is less opportunity for employment. You could even benefit from working in smaller more intimate environment. Let's have a look at some of the other supermarkets that could have vacancies for students…
Waitrose Jobs
Oh, we're all familiar with Waitrose; that supermarket that prides itself on high quality groceries. Fancy a job working for this upmarket chain? If you've got a store local to you, give them a try by calling into your local store or searching for online vacancies. Read more about jobs for students and graduates at Waitrose supermarkets.
Aldi Jobs
Low cost supermarket doesn't necessarily equate to low quality job. The Aldi supermarket chain are expanding rapidly – an average of one new store each week in the UK – and they're always happy to recruit hardworking students. In return for hard work, the financial reward is worth it – and for graduates, did you know Aldi was voted in The Times Top 100 Graduate Employers. Read more about student jobs with Aldi.
Lidl Jobs
As well as part time student work, German retailer Lidl also has a dedicated graduate programme for those who want to progress to management level. Most towns across the UK have a Lidl store – there are over 500 supermarkets across the UK – and it's likely there's one in your vicinity. As with Aldi, you hard work is well rewarded so what are you waiting for? Find out what could be in store for you with a supermarket job at Lidl.
Regional Supermarkets & Convenience Stores
Some supermarkets haven't taken the expansion route of huge stores nationwide and have remained regional or niche. These are all types of places worth considering for students because, chances are, especially in the case of the 'cut price' chains, there's a store close to your student area.
If you're at university in the north of England, for example, Booths might be a good place to look for part time or summer holiday work. And have you considered a student supermarket job at any of the frozen food specialists? Iceland has over 800 stores nationwide and recruits both students and graduates. Regionally, both Heron and Farmfoods are worth checking out. Be proactive and keep dropping into your local store to ask about part time evening and weekend work. If you don't ask, you don't get.
And then there are the smaller supermarkets that, these days, operate as local convenience stores and off licenses. If you are a student looking for a part time evening job with the option of extra hours, these are the places you need to pop in to if you have one close by as many are franchised. Read our company profile about possible supermarket jobs at Costcutter. Spar, Londis and Co op are all convenience stores where you could also make yourself known to local management if you have a store close to you. After all, if you can walk there, you have no transport costs.
What Types Of Student Supermarket Jobs Are Out There?
Shelf Stacking and Serving Customers
Yes, we know we said there's more to working in a supermarket than this – but let's face it, particularly if you are working in some of the smaller convenience stores, as a student working part time, these could well be your duties. And that's no bad thing. If you enjoy dealing with people, serving customers on the tills is pleasant way to earn your extra cash. Meeting and greeting customers as they enter the store should be something you would enjoy.
Specialist Food Areas
These days, the larger supermarkets are separated into different sections and staff are specially trained in a particular area. Are you a foodie? Are you willing to learn new skills? There are lots of part time and seasonal job opportunities that could be available to students on the deli counter of supermarkets. Or what about making pizzas, training to be a fishmonger or working on the meat counters?
Maybe you are studying catering or other food-based qualifications. In that case, your spare time could be spent working a part time supermarket job in the cafe or restaurant attached to it. Anything from simple snacks right through to more substantial meals, speciality coffees and cakes are served these days. All good practical work experience for you.
Drinks
Fancy yourself as a bit of a connoisseur when it comes to beverages of the alcoholic variety? Some supermarkets employ wine advisors. While it's no doubt going to be difficult to get a part time student job as a wine advisor, you could always make your interest known if you have a job in another department, even if it's just to pick up a few tips.
Fashion
Again, this is more particular to the larger supermarkets. If you are studying fashion or retail fashion at university, you could do worse than finding a student job in the ever-expanding clothing sections of supermarkets. That might be a job on the shopfloor of the supermarket itself, it might be seasonal work in the distribution warehouses, picking and packing. Extra staff are always needed in these warehouses in the build up to Christmas for example or when new seasonal ranges are coming out.
Drivers & Distribution
As we said above, how many times have you just typed in your favourite supermarket, hit .com and ordered your shopping via the comfort of your own laptop? Who do you think runs around the warehouse, finding your goods and boxing them up? Who loads the delivery vans? Who drives them to your house and knocks on your door? Well, why not you? Get yourself a student job working for a supermarket distribution centre. (Delivery drivers need to be over 18).
Work Experience, Internships And Graduate Training Programmes
We've touched on graduate training programmes in supermarkets throughout this post. Most supermarkets run them so click on any of the links above to see what's on offer if you think this is a route you would like to take.
If you are still a student or are looking for work experience and have a view to pursuing a future full time career for any of the supermarket, there are many other areas you could explore. Banking, insurance, mobile phone networks, customer services, holidays, pharmaceuticals, opticians, electricals, HR, marketing, management. There are many opportunities within supermarket companies for students of all specialist areas.
What Are Advantages For Students Working In Supermarkets?
That's the good bit. There are loads of advantages to working in a supermarket for students, whether it's a long term part time or just something you do through your holidays.
Training
The thing is, competition between the supermarket chains is high – so you benefit in that, even if you're just part time staff, it's in the supermarket's interest to train you up to a high standard so they can maintain their own high standards. Expect on the job training and maybe even courses. All good for your CV when it come to applying for graduate jobs.
Flexibility
Students can work weekends, evenings, holidays. And the beauty of some supermarkets is that they are 24 hours. If you're a night owl, you might even fancy a few night shifts – when you are not too busy studying, of course! Asda have a special scheme where you can just work through the weekend. As many elements of student socialising occur on week nights, this could work out perfectly for some of you out there.
Pay And Perks
Yes, it's brilliant to do some jobs purely for the experience (working in US summer camps for example) but if it's cold hard cash that you need to get you through your time at university, a student job in a supermarket is perfect. Expect at least minimum wage – but many will pay above that. On top of your pay, there are some supermarkets which offer extra perks to their staff. Discount on shopping, for example, has always got to be bonus for students, hasn't it?
Uniform
Well, if you are a bit strapped for cash, it's better to have a uniform than have to keep buying new work clothes isn't it?
Little or no travel costs
Supermarkets are all over the place and rival companies are always setting up in the same neighbourhood as each other. This is ideal for you as a student because you could find yourself a part time job at one of these convenience stores right around the corner from your house. No car or bus necessary and that means more disposable cash for you.
Career Development
Any part time work you take on as a student is always going to give your CV a welcome boost. Many students who study at university with a particular graduate career in mind get themselves a part time job and end up taking on a whole new career path as a result. If you do get a student job in a supermarket and you excel and enjoy what you do, as we said above, the graduate career opportunities are many.
So what are you waiting for? If a supermarket job sounds right up your street, apply for vacancies in your area now. You can search for the latest opportunities right here on E4S!

Leave a comment
You must be logged in to comment on this article.