It's been a great ol' summer, hasn't it? The weather's been unseasonably seasonal and it seems like we've only just watched Andy Murray lift the Wimbledon Trophy and the English cricket team retain the Ashes…
But, we can't stretch summer out for ever! Although it might not feel like it just yet, now is exactly the time that students hoping to earn a bit of money over winter need to start thinking about how they can find and secure a Christmas job….
You're Beginning To Look For Jobs For Christmas…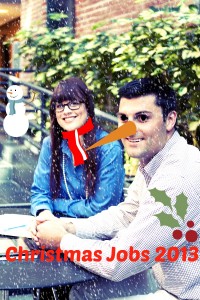 Yes, that's right! Lots of students are already looking for a Christmas job (many will have already found them) so we want you to be at the front of the queue rather than looking like the little boy or girl that Santa Claus forgot.
So, where exactly are all of the Christmas jobs going to be in 2013? Which are the best jobs for students this Christmas time? Where can you find them – and how can you make sure you bag one in time for the holidays?
Let's reveal all in the E4S guide to Christmas jobs for students in 2013!
Jobs In Every Store…
One of the best ways to think about where you might be able to find a Christmas job for 2013 is to think about what people traditionally do, both during the holidays and in the run up to them.
And one activity that really ramps up in the lead in to the Christmas holidays is shopping!
Everyone is busy buying just about everything for just about everyone else. You need a Christmas present for your mum, your mum needs one for your dad, your dad will probably ask you to buy something for your mum.
Christmas is for kids – and everyone knows a good few that they need to buy toys for…
And then there's Auntie Pauline and Uncle Phil. And your mum and dad will (hopefully) be looking for a special Christmas present for you. You'll be buying something for your latest boyfriend or girlfriend – and you'll need something for your mates too…
And you can't expect many people to send you Christmas cards if you don't send any out yourself. So, you'll all have to buy a few packs of those too to spread the festive cheer.
And EVERY family and bunch of friends are doing exactly the same in the weeks leading up to Christmas.
So….who sells all of these presents that everyone is looking for? Which places will need to take on extra temporary staff to help them cope under the strain of thousands more people wanting to buy things from them?
Yes, of course! All of the big High Street and online retailers!
Almost all of the big names advertise a raft of temporary Christmas jobs, starting from September onwards. Many offer them in the thousands – and 2013 will be no different.
In the last few days alone, Amazon UK announced 15,000 Christmas jobs, John Lewis said they need to find an extra 2,000 people to fill their temporary Christmas vacancies and Dixons Retail said they need 3,000 Christmas staff to help out in Currys, PC World and at their distribution facilities and customer contact centres.
Over 2,000 Christmas Jobs At John Lewis For 2013 http://t.co/GaizJ9jmot

— Employment4Students (@e4scouk) September 26, 2013
Other big retailers you should check for Christmas vacancies include Argos, Boots, Debenhams, Marks & Spencer, Matalan, Primark, Superdrug, Poundland and Toys R Us. Most of them will either have started looking to fill Christmas jobs already, or they will be announcing details of how many people they are looking for in the next few weeks.
Likewise for companies in the mobile phone industry such as Phones4u and Vodafone.
People also buy lots of jewellery as presents at Christmas too, so you can also see if there are any temporary jobs going at H Samuel or Ernest Jones.
If you are in London, then you could also check out Harrods which has its own dedicated Christmas Department.
And don't forget that these sort of temporary retail jobs for Christmas tend to run over into the New Year when shoppers are on the hunt for January bargains….
Even smaller retailers ramp up production in the Christmas build up, and we try to add as many of these opportunities as we can to the e4s website, so keep checking back for new positions being advertised. Just one example of this sort of Christmas job which we currently have live is for factory production staff to help out art print publisher, print framer and wholesaler King & McGaw in Newhaven, Sussex.
The Gift Of Christmas
When everyone has their Christmas gifts and cards all wrapped up and ready to go, they have a limited number of options of how to get them to their desired recipients.
They can either pass them on in person, pass the parcel via friends – or they can pop them in the post…
The Royal Mail is one of the biggest providers of temporary Christmas jobs each and every year. They regularly offer over 15,000 vacancies for Christmas (they advertised 30,000 in 2009) and have a variety of flexible shift options to suit everyone. With so much extra mail passing through their hands they need thousands of people to help them sort it all out and make sure the right items get to the right people at the right time.
Also do some research on other delivery services such as Parcelforce, DHL, City Link, DPD, TNT and UPS to see what temporary Christmas jobs they have available in 2013.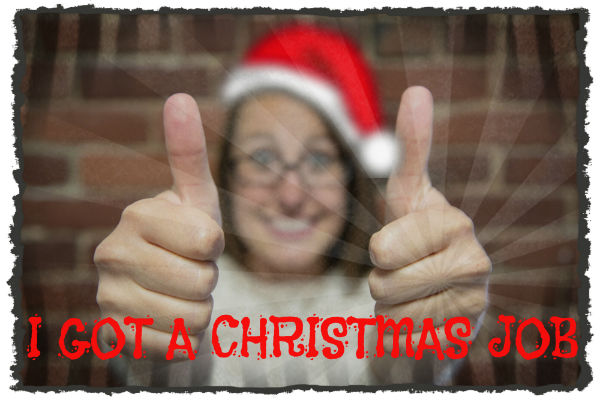 Tis The Season To Think Trolley!
So, what else does everyone do in the build up to Christmas?
They know they are going to have plenty of visitors, some unexpected, and they know that, like themselves, they are going to be doing nothing much other than eating and drinking for a few days. Gorging on stuff and stuffing that you would never dream of eating except at Christmas. Having an excusable reason to let the hair down and have a few festive mulled wines or a couple of cheeky brandies…
So, again, who is selling all of the turkeys, Christmas puddings, mince pies, Christmas hams, brussel sprouts, chocolate yule log, champagnes, wines, beers & spirits?
It's your nearest supermarket! You can probably find a Christmas job there and walk to work during the holidays in less than half an hour.
Like the retailers, supermarkets can hire in the thousands at Christmas time – and it isn't all just elf stacking jobs either!
For some background on the supermarkets which might be offering Christmas jobs to students in 2013, check out our company profiles for: Sainsbury's, Tesco, Aldi, Morrisons, Lidl, Iceland, Costcutter, Booths, Heron Foods, Farmfoods – and call in at any of the small independent supermarkets in your region to see if they are hiring.
Some supermarkets, such as Asda for example, look for dedicated 'Seasonal Workers' who can work up to eight weeks a year during the Easter, Summer and Christmas holidays without having to go through the hassle of re-applying to the company for a new job.
(Read our complete guide to finding student jobs in supermarkets.)
Mistletoe & Wine
So, now everyone has stocked up from the supermarket and has stacks and stacks of booze in at home for when friends and family pop round. They'll be staying in the house for the whole of Christmas and New Year getting merry won't they?
Not a chance!
No matter how much beer, wine and spirits might be under the stairs, the Christmas holidays are a time for hitting the local pubs and bars with your friends.
From a few weeks before Christmas, there will be all manner of work-dos, fancy dress parties, pub crawls and all manner of other ways to socialise with a few drinks.
And, Christmas Eve, Boxing Day and New Year's Eve are usually the busiest nights of the year for most pubs and bars.
With so many people wanting to drink at Christmas, it's a good job that there are enough people willing to stay sober and serve them all drinks! Bar staff are in very high demand over the Christmas and New Year holidays so there will be a good few extra temporary jobs swilling around in the system.
And, if you are willing to work when everyone else wants to party then you will often find that you will be paid a premium for your services. Double pay, or at least time and a half, are pretty standard for bar work on the really busy Christmas shifts.
You can call in at your local to see if they need extra hands on deck for bar jobs over Christmas, or you could try contacting big chains like Punch Taverns, Wetherspoons and Greene King direct to see what your options are.
You should also sign up with events recruitment companies like Flair Event Staffing, The Esprit Group and Jam Staffing. These guys know where the event jobs are and might be able to place you into some bar work or some other sort of job that you might not otherwise have heard about…
And, speaking of events, some of the biggest ones happen at Christmas. We've just started advertising for temporary bar staff and many other positions for the Winter Wonderland event in London's Hyde Park. (You can apply for Winter Wonderland events jobs now).

Oh Yes, Yet Again, Try And Stop The Carvery
The only thing that can match people's appetite for drink at Christmas….is people's appetite for food…
Cafes and restaurants are packed out with Christmas office parties and friends' get togethers. And those who can't be bothered with the whole palaver of making their own Christmas dinner will head off with family and friends to local restaurants to have someone cook it for them.
Restaurants, like pubs, need to pay people to put in some extra hours over Christmas and New Year to make sure that their hungry customers are served great food with great service. And, again, they will often pay more than average if you are willing to work unsociable shifts.
You can either drop in to a few restaurants near your hometown to see if they have any Christmas jobs going or you can contact some of the restaurant chains which have bases in most big towns and cities. For example, try a few of these for temporary Christmas vacancies in 2013: All Bar One, Wagamama, Giraffe, Bella Italia, Cafe Rouge, Frankie & Benny's, GBK, La Tasca or Yo! Sushi.
And don't forget that there could always be an increase in demand for pizzas and fast food over the holidays – so, check if there are any Christmas jobs going begging at McDonald's, Pizza Hut or Pizza Express.
A Stay In A Manger
Hotels also get busy before, during and after the Christmas holidays as people go to visit friends and family. Late office parties can also mean that more people are checking in over night at certain hotels.
Some of the bigger chains like Travelodge, Marriott Hotels, Jurys Inn, Best Western, Premier Inn and Thistle Hotels might be advertising temporary Christmas jobs near where you live.
Indeed, Travelodge has just announced that it is creating 150 jobs before Christmas 2013.
Read our full blogpost about Finding Hotel Jobs.
The Christmas Box Office
Lots of big films are released to coincide with the Christmas holidays because film companies know that families and friends love to go the cinema over the festive period.
Some of the bigger cinemas could swell their ranks at this time of year by offering Christmas jobs to returning students and other young people. Try contacting any local Odeon, Cineworld or Vue cinemas to find out if they are hiring for Christmas 2013.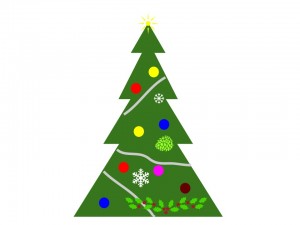 Oh Christmas Tree, Oh Christmas Tree
Everyone has a Christmas tree, and many people still buy a real Christmas tree each year. So who is selling them in your area?
Are there any local specialist Christmas decorations shops?
Find out – and go and see if you can pick up a few weeks work in a Christmas job for them.
For example, some garden centres take on more staff over Christmas to help sell all of those Xmas trees that everyone is looking for. Some companies use trees from sustainable plantations and take on the same students and graduates year on year. Here is one company like that in the London area – The Christmas Forest.
Home Alone Too
And, if you don't fancy braving the White Christmas weather (and holiday traffic) just to earn a bit of money over the holidays, then why not be lonely this Christmas and work from home?
There are tons of ways that students can make money online from home and, depending on your individual skills, you might be able to tap into some mushrooming demand for certain tasks before Christmas. From selling photos to typing & transcription work, from online tutoring to testing websites for other people, there is always something you can do to earn money on a freelance basis, whether it's Christmas or any other time of the year.
For the lowdown on just a few money-making ideas you might be able to do online from home at Christmas, have a look over our blogpost about 11 Jobs Students Can Do On A Laptop.
Last Christmas….we'll give you a chart
Okay, that's our pick of who will be hiring students into Christmas jobs in 2013 (indeed, many of them already are). But, just as an indication, let's have a quick look at some of the biggest recruiters for temporary Christmas jobs last year: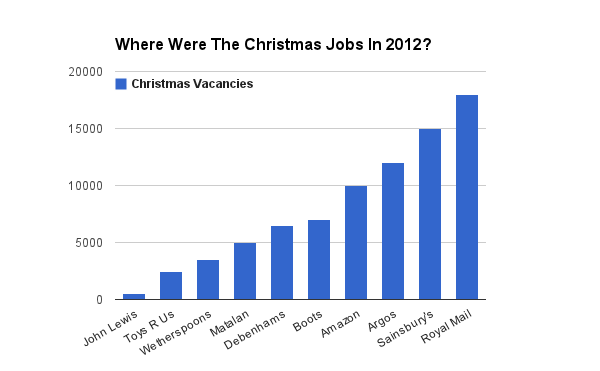 As you can see, the Royal Mail offered the most temporary Christmas jobs in 2012 (18,000), closely followed by Sainsbury's (15,000), Argos (12,000) and Amazon (10,000).
Amazon and John Lewis have already announced that they are looking to fill lots more temporary Christmas job vacancies in 2013 than they did last year, so let's hope that this year will be a bumper year all round for student Christmas jobs!
The Nightmare Before Christmas…
If you've read the whole of our guide to Christmas jobs in 2013 and you're now worried that you've left it too late to find a Christmas vacancy this year….don't panic!
We advertise part time jobs and holiday jobs all through the year – and Christmas sees as many vacancies hitting the e4s student jobs website as there are in our busy summer holiday period.
If you are still looking for a temporary Christmas job for 2013 then try a search for vacancies in your hometown right now using our Part Time Jobs & Holiday Work search facility.
Happy Christmas job hunting for 2013 students!
If you've found this blogpost about where to find Christmas jobs in 2013 useful then please share it with your friends on Facebook & Twitter. And don't forget to subscribe to the e4s Student Jobs blog for more valuable information about vacancies in the future.
Christmas Jobs In The News:
Amazon Offer 15,000 Christmas Jobs
John Lewis Looking To Fill 2,000 Temporary Christmas Jobs
Dixons Retail & Matalan With 7,000 Christmas Jobs
Argos Delivers 10,000 Christmas Jobs For 2013
700 Christmas Jobs At Coventry Courier Firm City Link

Leave a comment
You must be logged in to comment on this article.