PART ONE – FINDING STUDENT JOBS ON TWITTER

Twitter is without doubt one of the biggest social media networks out there – and it can be a great deal of fun for students and anyone else who puts in a bit of time getting their head around saying what they mean to say in just 140 characters.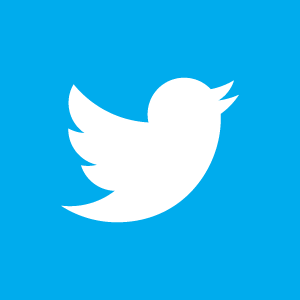 You can follow famous folk as if they were your best mates, chat randomly to people you have never even met – and feel damn proud when one of your cool witticisms, withering observations or hilarious twitpic photos gets a dozen retweets.
But, aside from the fun aspect, Twitter can also be used as an amazing tool for finding student jobs after school, during college & university – and even after you graduate.
In this three-part e4s blogpost series we'll give you all you need to know to use Twitter like a student job seeking pro!
Part 1 – (yes, this one) will show you how to actually find the student jobs on Twitter in the first place.
Part 2 – will deal with how to get your own Twitter house in order to impress potential employers (and doubtless your friends too).
Part 3 – will take things to the next level and fine tune your Twitter skills to earn you the title Master Twitter Student Job Searcher & Securer.
So, shall we begin with….RULE NUMBER ONE OF STUDENT JOB CLUB?
#1 – Follow employment4students (e4scouk) on Twitter
Well, you were probably expecting it, so we might as well get it out of the way!
We promise you'll find tons more tips for using Twitter to find student jobs in the rest of this three-part blogpost series (well at least another 18 sizzling student job hunting tips anyway) – but, you might as well get things off to a flying start with your job hunt by clicking below, right now:
But, okay, you've guessed right…There's (sometimes) a little more to finding a student job on Twitter than simply following e4s and waiting for the right opportunity in your area.
So, what's up next?
#2 – You've Followed The Best, Now Follow…A Bunch Of Other People
Who are you looking to find a student job with? What sort of companies do you want to work for? Are you looking for part time work, temporary jobs or graduate positions?
Think about some of these questions and then ask yourself who might be advertising or giving up-to-the-minute news about those sorts of student jobs on their Twitter accounts.
If you've got a handful of particular companies in mind then follow them – or better still, check if they have a separate dedicated "careers" or "jobs" account that you can follow on Twitter.
Now, that sort of approach is probably most effective at the graduate end of the scale because most of the big employers do indeed have separate careers accounts that you can follow on Twitter.

But what about if you are just looking for a Christmas job during the holidays? Or a part time job in your hometown at the weekends or in the evenings?
For those sorts of student jobs, you might be better off following the people who release the news about these things. Think local newspapers, student job boards (like e4s) and job aggregators.
We write about student job news all the time on the e4s website and we always tweet the news (and put it to our Facebook Page) right after we put it live. So, if you are following us on Twitter then you'll get news of student jobs delivered straight to your feed. We also retweet any other news of student jobs which we spot, so you'll get those too.
Similarly with your local newspaper. If they have a Twitter account then get them followed. They should be making it their business to post accurate and timely news about the latest jobs in your area.
#3 – Make Yourself Some Twitter Lists (or nick other people's…)
If you're using Twitter for multi-purposes then you will probably need to spend a bit of time making a few Twitter Lists for your job hunting. This allows you to keep track of different things at different times (unless you have absolutely nothing else to do in which case you can just spend all day on Twitter).
You can organise different the people you follow (and even the ones you don't follow) into list categories so that you can dip into a particular topic theme whenever you like.
For example, you can make a Twitter List for your real life mates and call it "Drinking Buddies" – and another one full of sports profiles and commentators called "Sport" (or something more inventive if you are that way inclined…)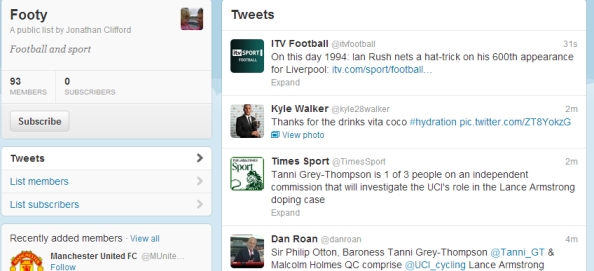 We use Twitter Lists to keep our own e4s Twitter account organised. For example, we have a Twitter list of University Careers Services which we find very handy.
These Twitter Lists just make it dead simple to zone right into what a particular set of people grouped around a specific topic are saying at any one particular point in time.
For your student job search, you should make up Twitter lists with names like "Potential Employers" or "Student Job Advertisers" or "Student Jobs News" and fill them up with relevant Twitter accounts.
You can choose to make any of these lists either public or private, so nobody else needs to know which pigeon holes you are forcing them into (unless you want them to).
The fact that many of these Twitter lists can be set up as 'Public' is great news for anyone dreading the thought of setting them up themselves. There is a good chance that someone may have already done most of the hard work for you by setting up public lists with names like "Student Job Advertisers" or our "Career Services" list that we mentioned above.
If you can find one of these priceless Twitter Lists then you can simply subscribe to the list without doing any of the hard work yourself.
Now, I bet that's something you wanted to hear!
For an oldie-but-goldie guide to setting up and using Twitter lists check out his Mashable post.
#4 – Use Twitter Search (& Save The Searches)
As well as making lists of relevant people and accounts to follow on Twitter you can also use the Twitter search function to follow particular keywords or hashtags.
For example, you can go to your Twitter account and run a search on "London Jobs" and get something that looks like this: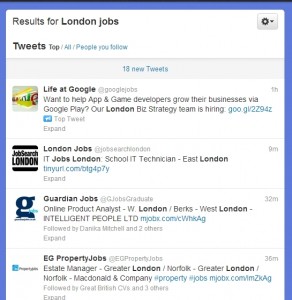 So far, so funky…
But, even better, if you click the little cog you can then use advanced search settings to narrow the results – and then save the search to dip back into whenever you next sign in to Twitter.
How impressive is that? An instant update of the jobs most relevant to you at your fingertips.
#5 – Email Alerts
All well and good!
But, no matter how well you organise your Twitter lists and advanced saved searches and try to keep track of the most important people to follow, you can't be on Twitter 24 hours a day.
So, for the keywords that could be important to your student job search, you can even set up email alerts. You can use services which hunt for keywords on Twitter and send you an email when they are mentioned. Using our "London Jobs" example again, you could set up an email alert and get notifications straight to your inbox as they happen or as a summary digest every so often.
There are a few services that provide this sort of function, but Twilert is a good starting point.
#6 – RT Useful Tweets – like this one…
Something we'll be covering in more detail in Part Three of this series about using Twitter to get a student job is about how to maximise your employability as a student by interacting with the decision makers who are offering the jobs.
There are various way to interact with fantastic people on Twitter, but one of the most effective techniques you can use is to retweet great tweets from great people to follow.
For example, here is a tweet that you absolutely must RT if you want to find a student job

)
19 Ways To Get Student Jobs Using Twitter – Part One: Finding The Jobs… fb.me/Bxfn0UlI

— Employment4Students (@e4scouk) November 30, 2012
Okay, that's all for Part One – hope it's given you a taster for how effective Twitter can be in the search for a student job.
Coming Up In Part Two Of 19 Ways To Get A Student Job Using Twitter:
Sorting Out Your Twitter Profile For The Student Job Search….
*All of you astute students will, of course, be wondering how we managed to embed a tweet about this blogpost at the end of this blogpost…within the original blogpost itself. Well, the truth of the matter is that we used time travel to achieve it. So, keep an eye out for our distant, upcoming blogpost "36 Ways To Use Time Travel To Land A Student Job" which we will be writing sometime last year…

Leave a comment
You must be logged in to comment on this article.