PART THREE – TAKING TWITTER TO THE NEXT LEVEL
Thanks for coming with us on our Twitter student job journey. This is the final part in our trilogy of e4s blogposts and we hope you've already picked up tons of tips already.
Just to recap for those at the back…here is the story so far (make sure you click through to read the first two parts in our series if you haven't read them already):
Part One – Our tips for finding student jobs on Twitter
Part Two – Sorting out your Twitter profile for the student job search
Right guys, what have we got for you in this third and final instalment on becoming a Twitter student job guru?
PUTTING IT ABOUT A BIT – How to make yourself heard above the Twitter noise
TAKING TWITTER TO THE NEXT LEVEL – Using tips & tools to make Twitter sing
Let's get started…
PUTTING IT ABOUT A BIT
Using our tips from Part One & Part 2, you've now found some great student jobs and you've perfected your Twitter profile. All you need to do now is wait for the employers to follow you and offer you a wide choice of their current crop of student jobs isn't it?
Not so fast! You didn't think Twitter was that easy did you?
What we need to do next is to capture the attention of some of the people who can help you actually land all of these graduate and student jobs you've found…
So how can we do that? Let's move on to Tip 12…
#12 – Interact With Relevant Companies & Influencers
If you want to work for a particular company or sector then do some searches – either through Twitter directly or using Google – to try to find the names of the key players who might be able to open doors for you.
When you've found them – follow them. Okay, they might not follow you back immediately. They might not follow you back at all. But follow them and keep track of what they are saying. Put them on one of the Twitter lists that we told you about in Part One of "19 Ways To Get Student Jobs Using Twitter" – maybe a list called "Influencers" or something similar.
Respond on Twitter to the things they are tweeting about. Try to get involved in their conversations (without overdoing it – you don't want to annoy them). Asking questions is a great way to get attention on Twitter.
Who wants a student job? e4s.co.uk #student #jobs

— Employment4Students (@e4scouk) December 7, 2012
The thing we are trying to do is build up a rapport with people so that they will actually want to help us. This isn't about spamming people on Twitter, it's about engaging with the people who can make a difference to your student job hunt.
Another thing we can do is to add a nice little seasoning of job word keywords to some of your tweets in the same way that we did to your Twitter bio in Part Two.
Again, make sure that the keywords you are using relate to the sorts of student jobs you are interested in and mix things up so that not all of your tweets are *only* about your job search (that might look a little desperate).
For example, if you are studying in Manchester and looking for some part time bar work then a few of your tweets each week could run along these sorts of themes:
"Great to see everyone at @common_bar #Manchester tonight. Wouldn't mind finding some work on the other side of a bar before Christmas though…"
Maybe the Common Bar would see your tweet and get in touch. Maybe someone who follows you will pick up on it and tweet to you about some bar work that's going begging somewhere else in the Northern Quarter.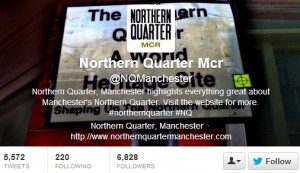 Likewise, if you are trying to secure a graduate job or an internship at say, Ernst & Young, then follow a relevant Twitter account such as @EY_StudentsUK and, if possible, some of the real people behind the scenes.
If they follow you back, or even just come to view your Twitter profile, then wouldn't it look great if you'd recently tweeted something like this?
"Really enjoyed my recent finance internship. It's made my mind up that my future is on a graduate scheme with a quality company like @EY_UKI"
#13 – Tweet Your Online CV
One great way to get outside the 140 character restriction of Twitter is to link away to more information about yourself at an online CV.
There are a number of ways of doing this – but the more inventive you can get, the more chance you have of impressing potential student employers.
The most obvious way is to use one of the many online CV building services which will also host the document for you (you should be able to find some of these services with a few Google searches).
Another way is to use document sharing sites like SlideShare, Dropbox or Google Drive to post a copy of your CV.
And, if the written word just can't capture just how good you are, then why not upload a video CV to YouTube and link to that from Twitter?
TAKING TWITTER TO THE NEXT LEVEL
Right, we've done most of the hard work now for finding and landing student jobs on Twitter. These last few tips will just help you to cut down on the amount of time you spend on Twitter, help you track what's going on, make sense of your Twitter stream and fine-tune your whole Twitter experience in the hunt for a student job.
#14 – Use Twitter Clients
Twitter as a function is wonderful for up to date information – but the website itself it isn't always the most effective way to organise all of the information you receive.
Look into Twitter clients such as Hootsuite and TweetDeck which can help you keep track of moving streams and lists – especially if you are using separate account for your "normal" Twitter account and your "Student Job Search" Twitter account. Each Twitter client has its pluses and minuses, so have a play around with as many as you can find and see which one suits you best.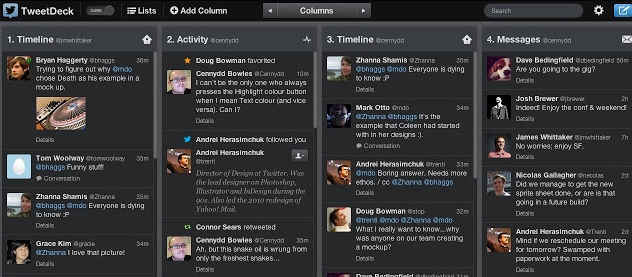 #15 – Use Twitter Tools
In addition to the Twitter clients mentioned above, there are also tons of great Twitter tools and websites which will help you for various different functions of Twitter. Some help you find brilliant new people to follow, others help you to unfollow people who didn't return your love or are no longer tweeting. Yet other tools help you build and organise lists for your student job search.
To get started, check out a few sites such as Tweepi, Twellow and Followerwonk.

#16 – Time Your Tweets
Try to be intelligent about the timing of your tweets. You might normally be up at the crack of dawn and straight on Twitter, or you could be a late night Twitter owl when most other people have gone to bed, but is that when the people offering student jobs are likely to be around online?
Again, look at the Twitter accounts of the people you are trying to find work with. What sorts of times are they using Twitter? Try to be around to tweet live to them and actually get in a conversation. Make sure that your "keywordy" tweets will be in your Twitter stream when they come looking.
#17 – Never Forget That Twitter Is Social
Twitter is *social* media! A lot of people seem to forget that…
Twitter is primarily about making conversation – and it is most effective when it is used in that spirit.
#18 – Don't OverTweet
Following on from #17 – don't overtweet!
Some people tweet about anything and everything at every time of the day. They tweet about what goes into their bodies – and they tweet about what comes out of their bodies. All that's going to secure for you is a lot of unfollows. Nobody wants to hear every single thing about your life (no matter how cool you might be).
There are no hard and fast rules about the perfect number of tweets to send out every day – but think about how much noise you can tolerate from other people in your own Twitter stream, and then adjust your own Tweet output accordingly.
Be concise, be precise and only tweet when you think that someone (esp. a student job provider) might want to listen.
And finally….
#19 – Don't Use Twitter *Only*
Yes, that's right. We've shown you how useful Twitter can be for finding student jobs, but never ever come to rely on it as the only source for student work and graduate opportunities. Twitter doesn't work in a vacuum – it interconnects with all sorts of other channels like Facebook & LinkedIn, which are also very valuable when trying to track down and land student jobs. And, as well as following e4s on Twitter, you should do searches for student jobs through our website.
Remember we told you in Part One of this series about setting up email alerts for keywords on Twitter. Well you can do something even more targeted for your student job search using the e4s website. Search for student jobs in your area and apply for any you fancy – but then don't forget to set up an email alert from the results page. We will then send you an inbox update whenever a new and similar student job comes up. We're good like that!
Happy Student Job Hunting folks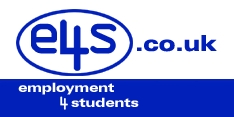 That's all for now. But, we really hope you've enjoyed this series of blogposts and have found a good few useful tips to take away and use on Twitter for your student job search. We'd love to get your comments below – and, you never know, things move quickly in the world of social media, so we may do a follow up series next year…
(Just in case you missed them, here are links to the first two blogposts in our Twitter Student Jobs series:)
Part One – Finding Student Jobs On Twitter
Part Two – Perfect Twitter Profiles For Student Jobs

Leave a comment
You must be logged in to comment on this article.