Okay, so, we've all heard the reasons why you shouldn't be on Google Plus…
But, in this blogpost, we're going to tell you exactly why students should be on Google+ in 2013…
People (who never actually seem to use Google Plus) say stuff like:
"Google Plus is a ghost town"
"It's full of tech geeks"
"No point being on there if you aren't a photographer"
"It's just for Americans"
blah, blah, blah…
So, what can we say to convince students like YOU to make it your New Year's Resolution to make the move to Google+?
**NB: If you don't need any convincing about G+ then head straight over to join our brand new Students UK Community by clicking the invite below – but please come back to read the rest of our blogpost for more info on what we want to get started over there.**

Google Plus Is Starting To Add Up
If Google Plus is a ghost town, then it's certainly a very, very busy, bustling ol' ghost town.  How many people are in a ghost town? By common consent, it tends to be around zero…
Google+ on the other hand passed through 400,000,000 sign ups in September last year, and, in the same month, achieved a monthly active user base of 100,000,000. That's a lot of ghosts!
But aren't they all American ghosts?
Go Fourth & Multiply
Well, there are certainly a lot of Americans on Google Plus. We can't argue with that. There are also lots and lots of students from India and Brazil.
But, what's wrong with that? A student is a student wherever they are from. You'll share interests and common experience with other students whether they are from London, Liverpool, Los Angeles, Lucknow, Londrina, Lima or Lahore.
AND, in actual fact, there are tons of UK users of Google Plus. People from the UK are actually the 4th biggest users of Google+. Just look at these country stats from CircleCount (click the image for a closer look):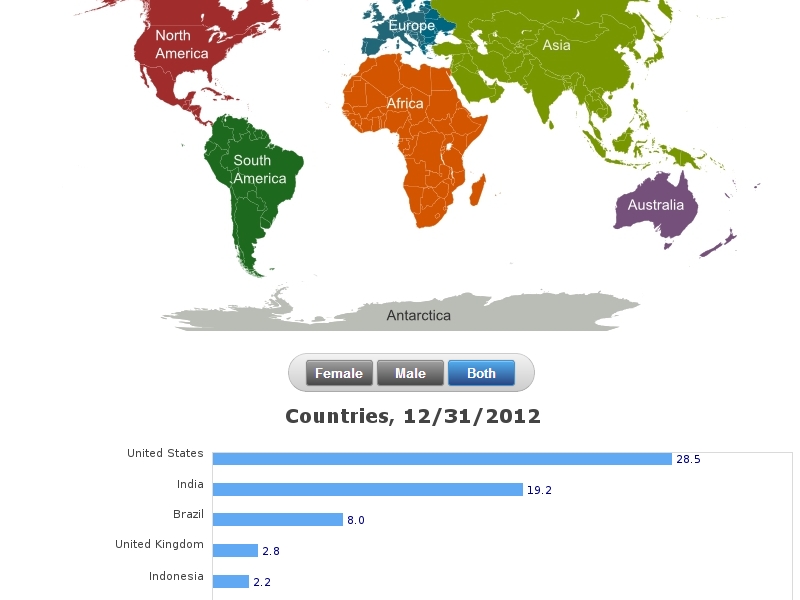 Obviously, the image cuts off a bit – there aren't just 5 countries that use Google Plus, but you get the point. There were a whole lot of people in the Sceptred Isles of the United Kingdom who were using Google+ by the times the curtains closed on 2012.
Tech Geek Photographers?
Okay, so now we know there are millions of people from all over the world using Google Plus. But aren't they all computer geeks, technology freaks and photographers? They aren't like you and me are they? (not that there's anything wrong with people who like computers, technology or cameras).
But, actually, what does your typical user of Google Plus do for a job? Are there *any* students on there?
Well, CircleCount stats can help us out again there. Look at the ratios of how users list their own "occupations" on G+: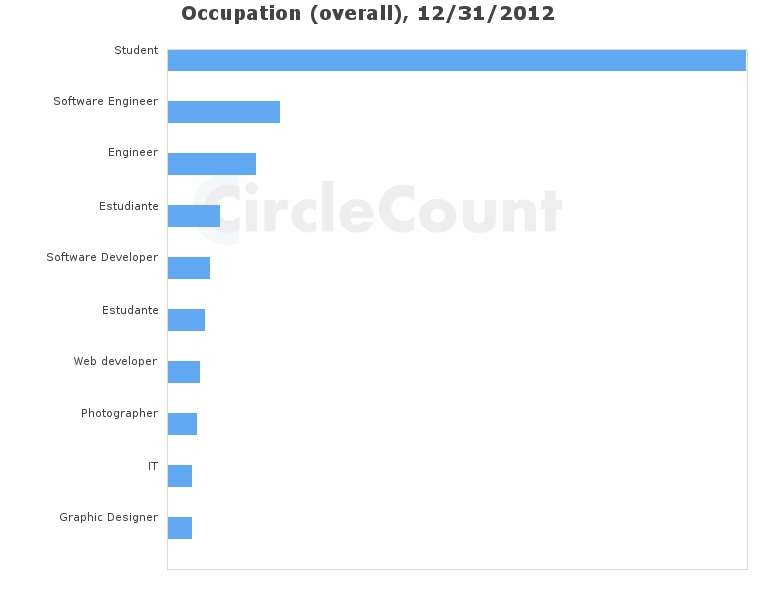 That's pretty conclusive isn't it? Seems like almost everyone on Google Plus is a student. And, unless I'm very much mistaken, "estudiante" and "estudante" are Spanish and Portuguese versions of students.
The photographers hardly even get a look in…
Squaring The Circle
Now we've established that there are millions of people using Google Plus, and that the majority of them are students like you. So…..why aren't YOU already on there?
Many people joined Google Plus when it first burst onto the scene – but then didn't quite know what to do when they got there. It wasn't quite Facebook…and it wasn't quite Twitter…There were lots of Circles to get your head around…What were you supposed to write about? What content should you be posting?
We joined Google Plus as employment4students as soon as Google introduced "Pages" and even we weren't 100% sure what we should be doing on there. Should we just post our latest student jobs on there? Should we post photos of the office party? Something from the photocopier maybe…
To be perfectly honest, we as employment4students didn't really know what to do when we got there either…
But then….
Communities – The Google Plus Game Changer (For Us)
But then….just a few weeks ago, Google went and introduced Communities to Google Plus – and suddenly, we KNEW what we should be doing on there…
So that's why we are starting to build the best community for Students in the UK. But we can't do it alone, we need your help…
Maybe Kevin Costner or Noah can get away with building it and knowing they will come – but we aren't Kevin Costner or Noah, and a community is not something we can build on our own…
Don't Just Join…Join In!
That's right folks. We don't just want you to join us on Google Plus, we want you to join in on Google Plus.
We don't want the student community to be about us, we want it to be about YOU.
We want YOU to post about the things that interest you. We want YOU to post photos that you think other students will be interested in. We want YOU to start discussion that you think your fellow students will be craving to talk about.
This is what we'd LOVE to see our student friends doing on the G+ Community…
G - Get Involved
P - Post Things YOU are interested in
L - Lead The Discussion
U - Use Hangouts
S - Share The Student Community
And, the great thing is that it's really easy to join – and join in. If you have any sort of Google account, such as Gmail, then you don't even need to set up a separate G+ account. You already have one. So, come and join in!
Just Student Jobs? Or A Broad Mix Of Student Topics?
We at employment4students are first and foremost interested in making sure that we can find the best jobs for students jobs at school, college or university. And, if you've finished university then it's our main priority to help you find a graduate job.
That's what we do. It's what we're best at.
But, we (obviously) know that jobs are not the *only* thing that students are interested in. There's plenty of other stuff that floats your boat, lifts your pecker or gets right on your gable-end.
So, what sort of things do you, as a student, want to talk about with other students on the Google Plus Students UK Community?
If you look down the left hand side of the Student Community you'll see that there are various topics we've added which you can post to.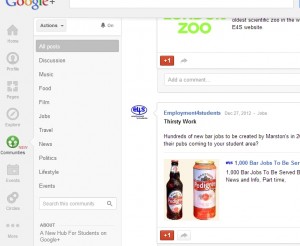 As you can see in the screenshot above, at the time of writing the current topics that we've added are: Discussion, Music, Food, Film, Jobs, Travel, News, Politics, Lifestyle & Events.
But if you couldn't give a fig about Food or would rather stick pins in your eyes than talk about Politics then let us know in the Community or in the comments below this blogpost.
The most important thing for all of us at e4s is that the Google Plus Student Community should reflect exactly the sort of things that you are all interested in.
So, if we've got something wrong then tell us. Let us know what topics YOU want to see down that left hand side.
After Midnight We're Gonna Let It All Hangout
We'll even let things hangout before midnight – if you promise to be good!
One of the most attractive features of G+ is the Google Plus Hangout!
You can use Google Plus Hangouts to have live video chats with your friends at other schools, colleges and universities. Up to 10 of you can let it all hangout at the same time. What we're hoping will happen is that some of you lovely students will meet up on the Students UK Community as strangers but start hanging out like real friends.
We're also hoping that we can also use "Hangouts On Air" ourselves to broadcast live video to you – and we can do it with more than 10 people at the same time

For example, we might ask student job employers to broadcast to let you know "live" exactly what jobs they have on offer and what sort of students they are looking for.
The possibilities with Hangouts are endless – and again, we'd love to know how you would like to use them.
If you don't know the first thing about Google Plus Hangouts, why they are useful and what the system requirements are, then you can find out all about G+ Hangouts here.
All Mod Cons
One thing we'll definitely be looking for as the Student Community grows on Google Plus is some extra helping hands as moderators for the community. We want to build a community for students that is friendly, spam-free, lively and useful.
So, we'd love some of you students to help us guide the direction of the community by stepping up to take some responsibility for the community. If that's something you would be interested in then join up and let us know.
Join Us & Join In!
If it's worth saying once it's worth saying again students! Don't just join us….JOIN IN! Click the invite below now and GET INVOLVED!

And leave your thoughts, opinions, public grievances & ground-breaking ideas in the comments below…

Leave a comment
You must be logged in to comment on this article.