Hi everyone, and thanks for visiting the e4s blog. We wanted to start by giving you a run down on where e4s has come from, to put what we are trying to do in context.
The e4s adventure started back in April 2000 with a couple of university students. Up front tuition fees had just been introduced so students were handed a £1000 bill in their first week of term. This had a dramatic effect on the number of students who needed to work during term time, the holidays, or both. With most students studying away from their home town, there was an increased need from students to find an efficient way of locating relevant term time and holiday jobs in different towns.
The internet was still finding its feet back in 2000, but universities all provided free access to it for their students. Despite the dot com bubble having just burst, there seemed to be some logic in using the internet to overcome geographical barriers to finding jobs. Job boards are two a penny now, but back then this was pretty pioneering stuff, with most classifieds being advertised through newspapers rather than online.
An entrepreneurial student in his second year of university decided that the internet could help connect students with jobs across the UK at a fraction of the cost to traditional newspaper advertising. He discussed the idea with an old school friend who was just starting at university, and after a couple of beers, it seemed like the best way for them to spend their student loans. A few months later their student loan funds had been exchanged for a student recruitment website and a registered company – Employment4Students.co.uk Ltd.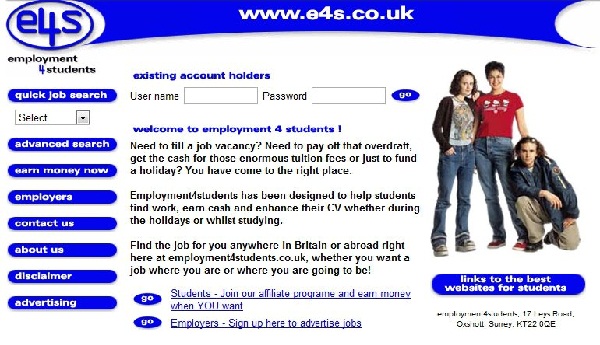 The first few years were a real struggle. Most employers were dubious about using the internet to recruit, and trying to reach students across the UK with probably the smallest marketing budget in history was a real challenge. However, after plenty of hard work, perseverance and changing attitudes to online recruitment, the company has grown into the most visited jobsite dedicated to undergraduate jobs in the UK, with 4 million unique visitors in 2010, and a management team of 4 people.
Our focus on helping students find term time and holiday jobs has not shifted, but as we have grown, we have broadened the scope of our site to include internships, graduate jobs, gap year jobs, school leaver jobs, and student deals – to help students get the most from their hard earned money. Ultimately, our aim is to help students find suitable jobs, and keep their debts to a minimum.
We are proud of what we have achieved so far, but still know there is a lot more to be done to help students get jobs and keep their debts down. The UK education system is going through some big changes at the moment, and we are going to be here to help students come what may. Thanks for visiting us, and please let us know how you think we are doing, and what we can do to provide an even better service.

Leave a comment
You must be logged in to comment on this article.