Christmas is a part of the year that most people look forward to and for students this can be a great time to eat, drink, be merry but also make some much needed cash to fund the next few terms. There are thousands more part time Christmas jobs and temporary Christmas jobs advertised each year by employers looking to meet the demand of their customers. As you may expect there are a few industries that need the most help with staffing...
Search the latest Christmas Jobs Here
Retail Christmas Jobs
The number of Christmas staff needed at retail stores during the months leading up to Christmas increases dramatically. Longer opening hours and the sheer demand of customers wishing to get all their Christmas presents means they need many more part time staff to man the tills and stock the shelves, as well as wrap the presents and provide great customer service. High street stores need thousands of extra staff. Large retail stores such as Boots, Argos, Primark, H Samuel, WH Smiths and Waterstones all take on substantial amount seasonal staff for the festive season.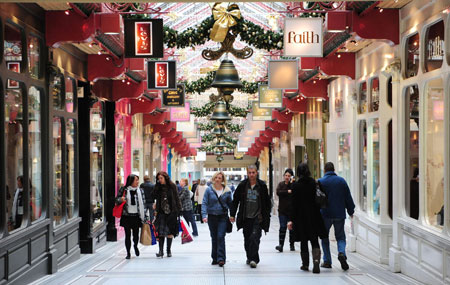 Supermarkets advertise for many extra seasonal positions during the festive period. In previous years Sainsbury's alone has needed over 14,000 staff to work in a number of key roles including customers service, check out work, shelf stacking and assisting in the ever growing online grocery delivery that requires teams of shoppers. An added bonus along with good salary is that many people who work with a supermarket during the run up to Christmas can find part time work on a permanent basis, great for students.
Search Latest Christmas Retail Jobs
Catering and Hospitality Christmas Jobs
The festive season is also party season with many thousands of Christmas office parties, club parties and thousands more people socialising in the bars and restaurants across the UK. Again this leads to a huge increase in the number of Christmas jobs for waiters and waitresses, bar workers and hotel staff. Christmas job hours can be un-sociable, i.e. you may have to work Christmas eve, Christmas day or new years eve, but in many instances you may receive a higher rate for working and the tips at this time of year can be very good, depending on the level of festive cheer!
As with retail jobs, taking a Christmas job in catering and hospitality can lead to an ongoing part time position and provide good experience in a busy workplace environment.
Search Latest Catering and Hospitality Christmas Jobs
Postal Services Christmas Jobs
Every year the Royal Mail is reported to sort more than 130 million items during the Christmas period, and with the increase in online purchasing this figure is set to rise again this year. During the Christmas period the Royal Mail will employ around 18,000 additional Christmas recruits in vacancies across the country with a variety of shifts in most locations. Find the latest Royal mail Christmas jobs here Pickers and Packers As with Royal Mail, many other logistics companies require parcel sorters and pickers and packers to ensure deliveries run smoothly from the warehouse to the customer.
Search Latest Christmas Postal Jobs