How Students Can Make Money From Home By Writing A Blog
Working from home is increasingly popular, and more and more people are trying to think of different ways they can make money without even going through their own front door.

Working from home is ideal for students who, ultimately, are working towards a higher qualification that will take priority over earning a little bit of extra income to pay for socialising and general living costs. Working from home - especially online work - means tasks can be fitted in around college or university commitments such as study, essays, dissertation and thesis writing.

Working online is also an ideal workaround for students who want to work in longer term posts but have commitments in their hometown, away from university. Returning home at weekends or for holidays is possible. Most 'working from home' jobs allow for locationless living. As long as there's a laptop and an internet connection, students can earn money.


In a blog article which we wrote about ways students and graduates can make money with a laptop, we listed blogging as one of those possible ways. In this article, we'll look at some of the ways students can earn themselves some much needed extra income from writing a blog. Most of this can be done from the comfort of the home - but that doesn't mean it's all plain sailing and easy money...
Don't Expect Money-Making Miracles From Writing A Blog
Before launching into all the ways to make money from writing a blog, it's important to point out that a blog is not a quick fix that will earn students and graduates a huge income easily.

There are countless blogs and websites out there that boast of making lots of easy money from their blog. While many blogs do make money (there are professional bloggers out there who make their living from their blog and have them set up as a business), the majority of blogs will only be earning a few pounds here and there. This is still a useful supplementary income, however, for students and graduates who have a bit of spare time on their hands and think they have a good idea for a blog.

How much people earn from blogging is down to their commitment to the blog itself, using social media outlets such as Facebook, Twitter and Pinterest to support the blog, and knowing how to communicate in a professional manner with any representatives of businesses who may want to work with you via the blog.

If a student has an already established blog with steady traffic and is looking for work from home ideas, looking into monetising the blog could be a good way to pull in some extra income.
The Best Blogs Are Written By People With A Passion
The easiest subjects students can write about in a blog is something they are passionate about; a subject they have a significant amount of knowledge in and a subject that will keep them updating their blog on a regular basis because they want to, not because it's a necessary chore.

A genuine passion in a subject will shine through in a blog and generate more traffic to the posts because readers will be interested in what's being said by the blogger. More eyes on a blog means there is therefore more opportunity for generating extra income.
A Monetised Blog Needs To Have An Advertising Page - the blog author needs to be contactable
Writing a blog is not going to help students who want to earn extra money by working from home if companies willing to provide that money aren't able to contact the blog author. A good strategy for students and graduates who want to make money from their blog is to have a media / contact / advertising page on their blog and to make sure this is clearly visible so people can spot it easily.

An advertising page should contain an email address or contact form, maybe a summary of fees and also information provided by the blogger about what they are looking for from potential advertisers and what they can offer the advertiser in return. Student bloggers can also create media packs that can be requested by businesses. This might contain an organised list of fees, advertisement timescales, blog page rank, most-visited posts and screenshots of Google analytics figures. This is worth spending time on in the beginning because it will make life much easier for busy students to send this to advertisers rather than having to type everything out in an email each time they receive a request.

A media pack should be updated every few weeks to keep statistics and figures contemporary.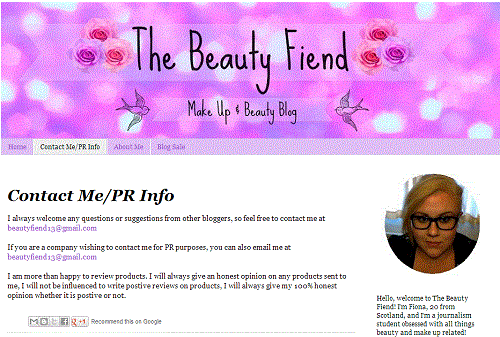 Make Money With A Blog By Selling Contextual Text Link Ads - A Warning
While many bloggers make money from home by selling contextual link adverts on their blog, it should be pointed out that this is frowned upon by Google. If they believe the link has been sold purely to game search results rather than as a genuine endorsement which is only there to direct traffic, your blog could be penalised.

If Google believe that the blogger is trying to influence search rankings by selling links then they will strip Pagerank, and the blog will start to disappear from search results. There are also people out there who are only too happy to report to Google any bloggers who they know to be selling links!

Recently, Google have made lots of changes and updates to their algorithm and many companies have found themselves dropping in search. One of the reasons for this is because they have so many irrelevant (usually paid for) links to their company website and they are now approaching bloggers to get their links removed. Selling links is therefore a high risk strategy and shouldn't be considered a long term strategy for making money from a blog.

Many companies outsource their SEO (search engine optimisation) to SEO companies and it is these companies that are likely to approach bloggers for paid links that go to their clients' websites; such is the desire of companies to appear at the top, or as close to the top as possible, in Google search results.

Generally, the higher the Pagerank of the blog, and the higher the traffic to that blog, the higher the fee the blogger can command for the link. Links can be sold as permanent or for a set period, after which time the link is removed.
Make Money From Your Blog By Adding Banner Adverts
A good way students can bring in some additional income is to sell space for banner advertisements on their blog. A banner advert is where the advertiser pays a set fee for a banner to appear at the top of the blog that advertises their company. This space is considered to be more effective real estate than advertisements in the sidebar so a higher fee can be commanded for the space. Again, it makes sense for students to have all of these fees noted in their media pack. Fees can increase as the size of the banner increases and, as with the link sales, a set period of time can be negotiated.

There are many companies out there who are looking for that real estate on blogs and students should be careful not to just jump in at the first offer. For example, readers of a blog all about the health benefits gained from cooking food from scratch at home are not going to be too impressed to see a multi-coloured flashing banner at the top of every page encouraging them to join the latest online casino.

Students can make money from a blog in this way in the short term, but as a long term strategy, banner adverts should be relevant to the blog subject and relevant for readers. If readers become annoyed by the adverts, they will stop reading, traffic will fall and the blogger can no longer command sensible fees for the advertising. The advertising offers could even disappear altogether.

Blogs that have good targeted traffic can also have a banner advert that is an affiliate link. This can be profitable for students and we will look at this in more detail in the section on affiliate links.
Making Money With A Blog By Selling Sidebar Advertising Space
Whatever the chosen theme of the blog, there is usually space in at least one of the sidebars that can be given over to advertising. Students can make extra income by renting out this space for given periods of time. Again, higher blog Pagerank and Google Analytics traffic numbers can be used to command higher fees. Advertising can be sold in the form of text or images and the larger the image, the higher the fee.

As with the banner advertising above, these adverts don't necessarily need to be straight ads for a company. Students who are struggling to attract companies can make money by using the space for their affiliate adverts and even Google Adsense advertisements.
How To Make Money From A Blog Using Google Adsense
Google Adsense is perhaps the most obvious and one of the most simple ways in which students can make money from blogging. In his post, Make Money Blogging, Darren Rowse of Problogger States that Google Adsense has always been, and still is, one of his main streams of income. Adsense is good for busy students who want to build up money without having to go to the trouble of negotiating fees and setting up different sized adverts on their blog.

Google Adsense is the Google adverts that are seen everywhere on websites and blogs. They can be in the form of text or images - the blogger can decide what works for them and their blog - and the blogger builds up money by earning a small fee each time the advert is clicked. Once the money builds up to a certain amount, Google then forwards that money to the bank account of the blogger. Get started with Google Adsense here free of charge.

This is a really good money making strategy for students but shouldn't be relied upon as the sole income from the blog. This is because Google can remove Google Adsense at any time if they suspect adverts are being clicked by the blogger (or friends of the blogger) in order to generate more income. Students who want to make money from home in the long term should employ a variety of money making strategies for their blog so that if one income stream dries up, they can still rely on others while they devise more new ways to build up income.

Blogs that have good targeted traffic can also have a banner advert that is an affiliate link. This can be profitable for students and we will look at this in more detail in the section on affiliate links.
Making Money Blogging Using Affiliate Marketing - Links and White Label
Once a blog has good traffic and is well established with a loyal following, affiliate marketing can be a good way for students to make money from their blog. Affiliate marketing is performance-based advertising where the blogger earns money each time a reader either clicks into the affiliate website or makes a purchase. This fee is usually worked out as a percentage of the value of the good or service purchased, or can be a flat fee for sending a qualified lead.
Amazon Affiliate Scheme
Many blogs advertise Amazon products. Depending on the subject matter of the blog, some students could make decent extra income through the Amazon affiliate marketing scheme. Commission rates are often tweaked by Amazon and are different for different categories of product - but let's look at a couple of examples.

A blog that sells the odd book here and there through Amazon is not going to make an income of massive significance. However, if a blog has a high readership and that blogger has built up trust among those readers then things can start to add up - especially if the blog is about high-earning areas like technology or photography, for example.

Amazon sells much more than books. Shoppers can buy a whole variety of products from the online store these days and technology and photography equipment can be sold via a blog. A small percentage of a purchase worth a few hundred pounds can be significant, and students who can entice readers into Amazon, via their blog, to make these bigger purchases can start to make a good income.

Christmas time can be especially profitable as shoppers look to buy more expensive gifts such as the latest Kindle, a new camera lens or the latest kitchen gadget.

Join the Amazon Affiliate scheme here.
White Label Affiliate Marketing
When a blogger has built up trust amongst readers, white label affiliate marketing can be a good way for students to make money working from home. White label means the blogger sells a third party product with their own branding and receives a commission for each sale.

There are many companies who offer this alternative. One example from the travel industry is the hotel price comparison and booking site, Hotels Combined. Bloggers can have a page on their blog that matches their theme and colour scheme. Readers can browse or book hotels and Hotels Combined pay the blogger a commission each time a lead clicks through to one of their partner's websites.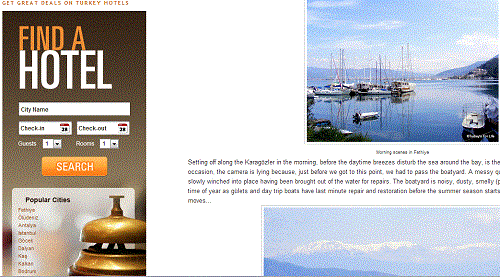 Link To Other Online Profiles
Some students and young people make extra income by selling photos online. Stock photo companies usually have widgets that can be added to blogs so if the blog and photos are related, it makes sense to link to the profile so readers can purchase any photos and the blogger makes more money.
Maximising Income From Affiliate Marketing On A Blog
Students can use their banner and sidebar advertising space in order to make money from their affiliate schemes. Companies often have different sized seasonal adverts to choose from so that readers are more enticed to click on the adverts. Rather than sitting back and waiting for people to click the adverts, bloggers can write contextual blog posts - a review of a product, for example, that later takes the reader to the affiliate site to make a purchase. At Christmas, Christmas shopping lists could be written, suggesting items to readers.

The main advantage for bloggers who choose to use affiliate marketing programmes is that the companies that offer them are mostly established and reputable. Payment is more certain, the blogger has control of where they want to place adverts and for how long, and a lot of hassle is therefore removed. Perfect for busy students!
Using A Blog To Sell A Product
Students can use their blog to make money working from home by selling their goods to readers. For example, fashion students, art students and those studying any of the more creative subjects may well have a presence on sites such as Etsy.

Blogging can be used as a platform on which to write about the creative process - how ideas come about, where materials have been sourced and then the actual making of the product. The product can then be sold to the readers who have followed the process with interest. This can all be done through outlets such as Etsy so the process is made simple.
Payment In Kind - Receiving Gifts In Return For Reviews
Depending on the subject of the blog, students can write reviews and even make videos to review a product. As the blog grows in popularity, companies will be happy to provide a product to students so they can write or film a review. Afterwards, the reviewer is usually able to keep the product.

For example, most publishers are willing to give books away for review and, whatever the topic of the blog, there is always going to be a book written about it whether in physical or ebook format. Students who are concentrating on food blogging may be asked to review new ingredients that are about to come onto the market. Recipes can be written to incorporate the new ingredient. Restaurants in the local area could also be willing to provide free meals or reduced prices in return for a review.

While this doesn't translate to physical cash, it's still a meal that might have otherwise been unaffordable and it means existing cash can be freed up for something else!

Free gifts in return for written or filmed reviews can be more profitable if the blog is about expensive products. For example, tech and gadgetry bloggers may be asked to review new gadgets that are about to come onto the market. Students who blog about photography could find themselves with lots of new equipment as a result of writing reviews on their blog.
How To Make Money From Blogging By Writing An Ebook
Blogs that have built up a good readership over time hold trust. Readers believe the blogger to be knowledgeable and trust what they say. Students who have achieved this with their blog can make some extra income by writing an ebook around their blog subject so they can sell it to their readers.

Writing an ebook takes a lot of time but most of the information can be taken from previous blog posts with added extras that readers are willing to pay for.

Students can make money from a blog in this way in the short term, but as a long term strategy, banner adverts should be relevant to the blog subject and relevant for readers. If readers become annoyed by the adverts, they will stop reading, traffic will fall and the blogger can no longer command sensible fees for the advertising. The advertising offers could even disappear altogether.

Many bloggers make a good income from their ebooks and try to write more than one over a year. As well as using their own blog to sell the ebooks, other bloggers looking to monetise their blog may be willing to advertise the ebook. Any ebooks they sell earn them a commission from the ebook author. Obviously, communication and good relationships with other bloggers are necessary for this. Whatever the subject matter of a blog, there is usually a 'blogging community' around this. Networking with these bloggers via informal meet-ups, blogging conferences, Facebook groups and other social media is essential for getting other bloggers on board to sell ebooks and other products.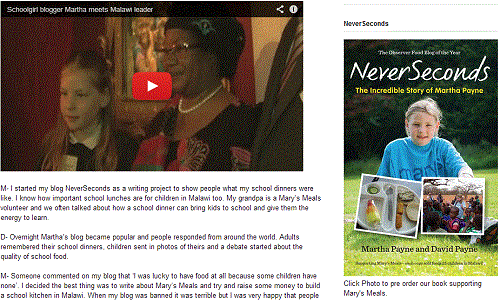 Sell Other Bloggers' Ebooks & Products For A Commission
And why not return the favour by reciprocating? Students can make some extra money from their blog by selling other bloggers' ebooks and products. This is a good strategy for students who simply do not have the time or the inclination to write their own book or design a product.
Conclusion
These are just a few of the ways students and young people can make money with a blog. As we said above, there is no 'get rich quick' strategy from writing a blog. It takes time to build up readership, and maintenance of the blog requires a degree of commitment - but, for some students, this can be worth the effort if the blog is about a subject that could help them get a foothold in their chosen graduate career. Not only does it look impressive on the CV, potential employers can see the evidence for themselves by clicking into the blog.

If making money from blogging seems too time consuming and difficult for the rewards involved then, don't worry, there are lots of other strategies students can use to work part-time in the evenings and at weekends to make money working from home such as part time transcription work or taking paid online surveys in their free time.