Summer School, Activity & Adventure Camp Jobs In The UK
Kids camps in the UK can be divided into three rough categories: the multi-activity day camp; adventure camps (these tend to be residential, although there are some companies that provide day programmes) and residential English Language schools. Although most of the student and graduate work offered by UK camps is seasonal, long-term flexible hours and full time career opportunities are available for those who would like to work in that field.
What is a multi-activity day camp?
In the UK, multi-activity day camps are places where young people can go to interact and make friends with others of their own age in a fun and safe environment. Depending on the company running the camp, age ranges differ but you will find activity camps in the UK accepting children from nursery age right up to sixteen year olds. Because of the diversity of activities available and age groups that attend, there will always be opportunities for college and university students and graduates to find summer camp jobs in the UK.

Multi-activity day camps are set up all over the UK and parents pay a daily fee for their child to attend. Discounts are given for early booking and block bookings of more than one day. For instance, a child may attend every day for one week on a block programme. The day camps are usually set up to run in the February half-term holidays, during the school Easter break and also during the long summer holidays, making them ideal places for students to find seasonal activity camp jobs.

Multi-activity day camps in the UK offer children and young people all sorts of fun things to do, from playing on bouncy castles and taking part in garden games to more structured activities like football, archery, swimming, drama and craft. Early years activities are also planned for younger children. Companies that run multi-activity day camps often endeavour to situate their camps in university grounds and the grounds of some of the UK's top schools so that children and camp staff get to make use of high quality facilities.
Adventure Camps
Adventure camps tend to be residential and have an older intake of children. The age range is usually between 8 to 16 years old and children and staff at these camps are here for the outdoor activities. Students and graduates looking for adventure camp jobs are likely to need a level of qualification in a specialist area such as paddle instruction, rock scrambling or lifeguarding, for example.

Staff working at adventure camps are usually expected to be resident on site and will arrange evening entertainment for the attendees such as barbecues and discos. Adventure camps in the UK can run from anything to a few days to six weeks in length, with the intake of young people changing at regular intervals.
Residential English Language Summer School Jobs

If you have a recognised TEFL qualification, you could opt to work in an English language school where overseas students come to spend time in the UK and improve their English at the same time. Don't worry, these are not just classroom-based schools where you are teaching all day. These institutions also employ students and graduates to be in charge of social and leisure activities for the students who attend.
Ofsted
Most of the companies that offer activity and adventure camps in the UK must stick to UK educational guidelines and are inspected by Ofsted (the Office for Standards in Education, Children's Services and Skills), just as state schools are. So, while camps in the UK are designed to be fun, most will list Ofsted registered activities that are tailored to particular age groups. Activity and adventure camps in the UK are committed to child development via a variety of activities that build skills, awareness of others and confidence.
What Type Of Roles Are Available In UK Camps?
Sporting Activities
Whichever type of holiday camp you work in, the most obvious roles available to students or graduates are sports coaching. Particularly in the multi-activity kids camps, jobs are always available for general coaching assistants or activity leaders, and also more specialised positions such as football and cricket coaching or swimming instruction. Some UK summer camps also recruit instructors in fields like sailing and high ropes.

Activity Assistants
This can be anything from assisting leaders and instructors with a sporting activity to setting up play areas, to organising and taking part in barbecues, discos and excursions in the summer language schools for overseas students. One thing is certain, you will never find yourself at a loose end in an activity assistant job. Oxford International and Stafford House Study Holidays' activity leaders, for example, do everything from planning and organising activities and excursions through to encouraging students to participate and monitoring the welfare of those who do get involved.

Adventure Activities
Instructors who work in these camps are qualified instructors in their specialist field. Graduates or students with adventure camp jobs will assist with or lead adventure activities such as quad biking, mountain biking, camp building and ghyll scrambling.

Arts & Crafts
Multi-activity day camps offer many different sporting activities but they also offer other activities such as cooking, performing arts, musical instrument making, pizza and pasta making and even biscuit decorating! Activity leaders, assistants and students with experience in childcare are often recruited in these areas.

Early Years
Multi-activity day camps such as Camp Beaumont and Super Camps accept young children so, if you are a student or graduate interested in a career in teaching or early years activities and structured play, an Early Years role could be ideal for you.

Teaching English As A Foreign Language (TEFL, TESOL)
Many camps in the UK accept overseas students of all ages from around 8 years old to adults. These summer schools regularly recruit teaching staff for english language teaching jobs, as well as activity staff, to work with the students. Check out Oxford International Education Group for language school jobs as well as Camp Beaumont for summer school vacancies (Read more about TEFL qualifications).

Office and Administration
And working in UK kids camps doesn't have to be all about working with young people. Students and graduates looking to gain work experience or even begin their career in HR, recruitment, finance or staff training or management can apply for such vacancies at UK summer camps through E4S.
What Work Is Involved At Summer Camps?
Whichever role you undertake, staff who work in summer schools, multi-activity and adventure camps around the UK are all working towards the common goal of inspiring children, whatever their age. Unless you love working with small children or young people, a seasonal job or graduate career in a UK summer camp is not for you.


The role of adventure and multi-activity day camps in the UK is to inspire children and young people to gain confidence in themselves, their sport or adventure activity; to encourage them to choose a healthy lifestyle via the activities they do and to teach independence.

These camps are about teaching life skills, and everyone employed in the camps is involved with this. Whether you want to be a sports instructor, specialist activity leader, an assistant, teacher, or even a manager, companies who recruit staff for UK summer camp jobs are looking for your unbounded enthusiasm and energy because the life skills that are taught at these camps are first and foremost taught in an environment that is fun. Make sure you can keep that smile on your face throughout your hours of work.

As well as working with children, summer camp staff generally need to plan activities and adventures, prepare and check the necessary equipment and clean up after each activity. Activity camps usually offer extended days (similar to after school clubs in primary schools) so that parents who work can drop their children off early and pick them up later. Some staff will be required to prepare activities and look after the children who are at the camp during the extended hours.
How Old Do I Have To Be To Work In A UK Summer Camp?
You don't have to be at university to work in a holiday camp. From 16 years old, as long as you are enthusiastic and working towards a recognised childcare qualification or have a recognised coaching or instructor qualification (this can be a basic-level that you have done in school or outside school activities), kids camps want to hear from you. Some positions, such as management, require you to be a graduate or qualified to a high level in your specialist subject.
What Time Of Year Can I Work In Language Schools, Activity & Adventure Camps?

Multi-activity day camps, adventure camps and language schools all run programmes throughout the British school summer holidays and extra seasonal staff are recruited to help out with those programmes. Camps are also run in the Easter and February half-terms.

Taking on a seasonal job in a multi-activity day camp doesn't mean that you have to give up the whole of your summer break. For example, Super Camps and Camp Beaumont recruit summer camp staff for a variety of flexible hours. You can apply to work for the whole summer but they only require a minimum of two weeks. If you have other commitments, you can also work just a few hours a day. Super Camps require a minimum of two hours a day.

Outside of the school holidays, some of the companies that run these camps continue to work with schools. This can be on school grounds, helping out with P.E sessions for example. Adventure camps also accept school groups during term time and run special days and weekends for families, scouts and guides, corporate teambuilding events and hen and stag weekends. If you have had a seasonal job with one of these companies, you could always make yourself available for weekends like this throughout the year or go into schools to help out as part of your work experience.

So, you can choose a camp that suits your needs. If you are working in a multi-activity day camp, your hours can be flexible - but obviously, you will have to choose a camp that is close to where you live.
When Do UK Summer Camps Recruit?
Whether you are a student or graduate looking for a seasonal job in a multi-activity day camp, adventure camp or even a summer language school, you need to familiarise yourself with the application windows.

For long term careers in UK camps, recruitment is ongoing and you can look for vacancies that match your skills. For seasonal work, because there is usually a selection process and training days before you start your new job, there are recruitment sessions. For instance, recruitment for February half-term and for Easter is usually between November and March. Recruitment for summer camp jobs in the UK tends to be between November and May, but most camps like applications early in that window.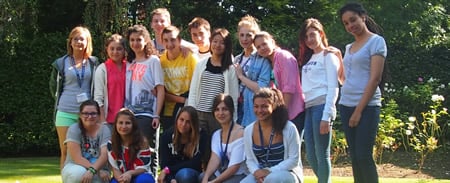 What Skills / Qualifications Are Needed To Get UK Summer Camp Jobs?
This depends on the roles you wish to apply for. Some roles require you to be a graduate or a qualified coach or instructor. If you have TEFL or TESOL certificate, you should qualify for roles as a teacher of English in some of the summer school camps that accept overseas students.

Even if you have no formal qualifications, you can still apply for roles as activity assistants. Here are a few tips to help you stand out above the other people applying for UK holiday camp jobs.

If you are working towards a recognised childcare qualification or have previous experience of working with children, make sure you highlight this in your application.
Have you got a licence to drive a minibus? Many universities offer subsidiary courses like this. Take advantage of it and do a course because adventure camps, multi-activity day camps and English language summer schools are always looking for staff who are insured to drive a minibus on excursions.
Have you got an up to date First Aid certificate? If not, do a course. These certificates are looked upon favourably by the companies that run camps.
If you are working with children or have done in the past, chances are you will have had a DBS check (Disclosure and Barring Service) that clears you to work with children. The camps will apply for these for you if you haven't already got one but you can push yourself ahead of the other applicants and save the camp a job if you already have your up to date CRB disclosure to hand.
Make sure your enthusiasm shines through in your application.
What Perks Will I Get With A UK Summer Camp Job?

All camps in the UK are committed to providing the best experience for the children who attend their programmes. This means staff members need to be keen, enthusiastic and qualified. The longer you work for a company, the more chances you will get to carry out further training and attain UK recognised coaching qualifications, food safety certificates and the like so that you can progress to leadership roles. This will give you an advantage over others if you wish to re-apply for roles the following season.

Even if you are just looking for casual seasonal summer camp work in the UK, you can take advantage of the training on offer as this can only enhance your CV for future graduate roles you apply for. Companies looking to recruit graduates are always impressed with extra-curricular interests and activities.


Uniforms are generally provided for activity staff and adventure instructors where relevant and in some cases, hours can be flexible, meaning you can arrange your hours to suit your study or other work commitments.

Staff who work in UK activity and adventure camps are usually offered 'competitive rates of pay.' Jobs in language schools and holiday camps are as much about the experience as anything else. At residential camps, accommodation, food and uniform is usually provided on top of your wage, and at all camps, you can expect ongoing, professional training as part of your role that would otherwise cost you money.

Obviously, rates of pay vary depending on your previous experience, qualifications and the type of job or career you are applying for.
Which Camps Are Recruiting Now?
Check out the latest UK kids camp jobs below or click on these summer schools and holiday camp companies to find out more about them:

Embassy Summer - 11 summer schools across London and South East England for international students aged 8-18.
Camp Beaumont - 9 multi activity day camps for 3-16 year old's in London, Surrey, Kent, Middlesex, Kent and Essex during the Easter and summer holidays as well as all the half terms.
Ultimate Activity Camps - Multi activity holiday day camps at 21 schools across England for children aged 4-14 over the summer holidays. Job roles include early years, activity instructors, trampoline coaches and lifeguards.
PGL Travel - Whether you are looking for a career in the outdoors, a gap year job, a seasonal job or a career break – PGL have suitable opportunities with thousands of roles at 24 activity centres across the UK, France and Spain.
Oxford International Education Group - 10 residential and non-residential language schools in England (including London), as well as Edinburgh over the Easter and the summer holidays - perfect for jobs in language schools.
Anglophiles Academic - An educational travel company that runs English Language and Activity Programmes in various centres in England (Boston, Leicester and Skegness) as well as Ireland, France and the USA for foreign students between the ages of 7-18.
Super Camps - 80 multi activity day camps across England (including London) during February half term as well as the Easter and summer holidays, with lots of summer camp jobs in England.
Adventure Central - live in seasonal activity instructor jobs at adventure centres in Minehead, Newland Park (Buckinghamshire), The Eden Project, Butlin's Skegness, Summerfields (Norfolk) and Nodes Point (Isle of Wight).
Go Languages WorldWide - operate residential summer schools in London, Edinburgh, Worcester and Reading and recruit activity staff and teachers (accommodation provided) for summer school jobs.
Girlguiding - Activity instructors and general assistants hired at 3 training and activity centres in the New Forest, Sussex and Lancashire.
Barracudas - Easter camps at 18 locations and summer camps at 29 locations in Surrey, Sussex, Kent, Essex, Middlesex, Berkshire, Hertfordshire, Bedfordshire and Norfolk.
Stafford House Study Holidays - provide English langauge and activity courses across the UK and USA, and have done so for more than 60 years. They have lots of summer school jobs.