Perhaps one of the first options that jumps into your head when you are thinking about looking for a part time job as a student is working in restaurants jobs or local bars close to where you are staying. As you are no doubt well aware, usually, there is no shortage of these types of establishment in any student area. As they are well frequented by locals and students alike, these bars and restaurants are always on the lookout for good, reliable part time and seasonal staff to serve customers and keep them happy.
Which Places Offer Restaurant Jobs & Bar Work To Students?
So, if you do like the idea of working in bar roles or restaurant jobs while you are at university,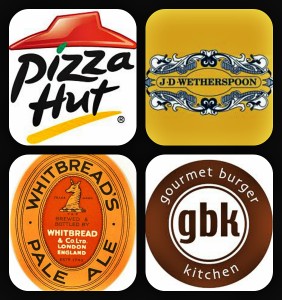 where do you start looking? How do you know which types of places are the ones for you? Let us give you a helping hand by giving you a few pointers.
All Bar One
All Bar One, owned by Mitchells & Butlers, are a very well known name in the bar and restaurant sector. Students who work in restaurant jobs for this company will be given structured training and they also have a dedicated graduate training programme for those who want a career in this industry. Click the link to read more information about working for All Bar One and other popular bar and restaurant chains owned by Mitchells & Butlers.
Tragus Ltd
Tragus Ltd operate familiar brand names, Bella Italia and Cafe Rouge. While both of these changes operate across the United Kingdom, Cafe Rouge are still largely based in London – more than a quarter of their restaurants are here. Bella Italia is good option for students looking to work flexible hours while Cafe Rouge will appeal to those interested in getting restaurant jobs in a smart establishment, serving French cuisine.
EAT
EAT like to keep it short and sweet. Click the link to get an idea of their style to see if this is the type of place you would like to secure restaurant jobs.
Frankie and Benny's
With over 200 diners across the United Kingdom, there could be a Frankie & Benny's right near you offering restaurant jobs today. If you like themed restaurants, take a look at our company profile for Frankie and Benny's.

Gourmet Burger Kitchen
Burgers can get a bad press but the people behind Gourmet Burger Kitchen are passionate about their burgers. If you think you share in that passion and would like to be trained up in the art of all things burger, then a student job at GBK could be right up your street.
Pizza Hut
Pizza Hut take on part time entry level staff as team members. If you are friendly and outgoing and you love to meet the public, you might be able to land yourself a few hours a week working for them. Pizza Hut have a good staff retention level because they provide mentoring and training.
Wagamama
If Japanese-inspired servings are your thing, take a look at our company profile for Wagamama. They have restaurants in many of the student cities so there could be a role for you either in the restaurant or in the kitchens.


Wetherspoon
Well, there aren't many places in the United Kingdom that haven't got a Wetherspoon pub or restaurant. If you are looking for a part time post with full training on offer and staff discounts, then this could be your ideal student job. Check out our JD Wetherspoon jobs profile.
Whitbread Plc
Whitbread Plc operate various well known chains that are household names and are the biggest hospitality company in the United Kingdom. As well as pub restaurants such as Beefeater and Brewers Fayre, they also own Costa Coffee and Premier Inn. There are countless opportunities within Whitbread for both students and graduates who would like to work in the hospitality sector. It's worth noting that they were voted in the Sunday Times Top 25 companies to work for in 2013 so that means you'll probably get valuable work experience here, even in you don't continue a full time career with them.
There are many more restaurant and bar chains across the United Kingdom, both regional and national. There are also many independently owned pubs, bars and restaurants where you might be able to find part time student work. Keep an eye on your local listings or visit the individual businesses to introduce yourself and enquire about possible work.
Here is a Wikipedia list of all the bar and restaurant chains in the United Kingdom.
What Type of Restaurant Jobs & Bar Work Is Available?
There are various part time jobs that students could take on in a bar or restaurant and, some of them, you might not even have considered. Let's have a look at some of the possibilities:
Waiting on staff
Obviously, restaurants will always need waiters and waitresses and these are perhaps the main jobs that students will be employed for when they look for restaurant jobs. Waiting on duties usually include taking food from the kitchen to the diners and serving it to their table.
Depending on the restaurant, other duties you might be required to carry out are setting tables, polishing cutlery, making sure areas like the dumbwaiter are fully stocked, preparing hot drinks and, if the restaurant is a higher end establishment, you might also be required to use silver service to serve meals to diners. Some restaurants also require their waiting on staff to prepare desserts.
Bar staff
Working behind a bar is another popular part time job that many students enjoy doing. Although it can involve late nights, it can also be a fun job where you might learn not just the art of pulling a good pint but also how to make cocktails and which wines to recommend with particular foods. If you are working in a restaurant bar, your duties could also include serving drinks to tables as well as across the bar.
Bar staff should also be prepared to do bits of cleaning, keeping the bar area neat and tidy, and also polishing glasses, as well as making sure the bar is fully stocked. And obviously, if you do want to work behind a bar, you are going to enjoy meeting new people and be confident in dealing with customers.

Washing up
Let's face it, it's not the most glamorous job a student can do but, well, someone's got to do it. If you are the type of person who just likes to mind their own business and get on with things, a part time post washing up could be exactly the type of job you need.
Kitchen Assistant
Working as a kitchen assistant in restaurant could be perfect for students who don't really want to be front of house dealing with customers all the time but who also have no real kitchen experience. These types of part time job are also good for students studying for catering or other food-based qualifications.
A kitchen assistant will assist the chefs by preparing side salads for meals and preparing simple starters. You will fetch and carry ingredients and also prepare vegetables by cleaning, peeling and chopping them. You never know, if you've never worked in a kitchen before, you might well discover a new passion through your part time job.
Grill Chef (GBK)
Eateries such as the Gourmet Burger Kitchen will train up specialised grill chefs from scratch to cook their burgers exactly how they want them to be served. If you relish working under pressure, a part time student job working on a grill could be perfect for you. Other restaurants that specialise in steaks will also have grill chefs but these usually require experienced staff.
Head Chef
Obviously, you're not going to be able to work part time as a student as a head chef in a restaurant. This is a job for those who have gone through full training and have lots of previous experience working in kitchens. If you do want to be a chef in the future however, a chınk of that previous experience can come from the part time kitchen work you did as a student.
Delivery Staff
And it's not all about working actually inside the bar or restaurant. If you like to wander, how about a student role working part time as a delivery driver? Pizza Hut train their delivery staff and use drivers and also bike riders to deliver their takeaway foods.
Cleaner
Fancy working part time as a cleaner in a bar or restaurant? A person who started out as a cleaner at Wetherspoons ended up as a manager of one of their pub / restaurants. See, you never know what your student job can lead to. Just saying!
What Are The Advantages Of Bar Work & Restaurant Jobs?
Flexible shifts
Student bar and restaurant jobs can be ideal for those with a busy studying or lecture schedule because many of these places offer flexible shifts, meaning you might be able to fit your work around university and your social life. The busiest time for many restaurants and bars is evenings and weekends and this is when you are most likely to have your spare time.
Restaurant jobs and bar staff positions can be seasonal, too, of course. Some places will require a few extra pairs of hands around the busy Christmas and New Year period for example or during the summer months where some places will be busy hosting wedding parties and receptions. Seasonal restaurant jobs or bar jobs can be a good idea for those of you who would rather work in your holidays when you return to your home town from university.In this way, your student life and studies are not affected too much and you can work as many hours as you like to build up the bank account for when you return to university.
Local
The hospitality and catering industry is big business in the United Kingdom and chances are, you are staying in a student area. Wherever you are living, there is going to be an eatery, pub or bar close to you that might take students on to work for them. The closer you are to your job, the more money you save on travel costs.
Food and drink discounts for employees
Many bars and restaurants, whether they are part of a chain or an independent business, will offer food and drink discounts to their staff. That's got to be good news for any student – who's not going to appreciate a discount?
Some chains offer a fixed discount – for example, Wagamama give their employees a 30% discount on their food – while independent businesses might just knock off the odd few pence here and there on a more informal basis.
Students who work long shifts, even if it's just part time or seasonal work, will also find that they may also be given a staff meal to get them through the day. This is perfect for cash-strapped students because not only are you getting fed for free but you are also earning extra money, too, in the process. Surely, the more disposable cash you have, the better.
And what about the drink discounts? If you have a student job in a bar and you also choose to socialise in that bar when you're not working, that makes for a much cheaper night out than if you went out to drink elsewhere.
Wages and Tips For Restaurant Jobs & Bar Staff
You should expect to be paid, at the very least, the national minimum wage while working in bars and restaurants. Obviously, this type of part time work is not going to make you millions but many chains will increase wages for students after certain periods of time or after a particular bit of training has been successfully completed.
The beauty of restaurant jobs for students is that you might also be able to pick up some extra hours over busy periods if you need more money for any reason. Over summer, you could cover the shifts of those people who go away on holiday and earn extra cash for your own break. And over Christmas, extra Christmas money will always come in handy as it's all hands on deck to cope with all those extra customers.
But all those extra customers also mean more tips for you if you are part of the waiting on team or you work behind the bar. At Christmas, this could be bumper haul for you as people are in a more generous mood and want to reward you for your efforts. In fact, in some cases, your tips can end up exceeding your wages – they're always an extra bonus.
Boost Your Skills By Taking Advantage Of Training On Offer
If you work part time evenings and weekends in an independently run bar or restaurant then your training will probably just consist of someone showing you how things are done in that place. After that, you are pretty much left to your own devices to use your initiative and do as good a job as you can. This type of work suits some students more than a job working in a place that belongs to a chain because there is more scope for individuality and making the job your own.
However, many students might prefer to get a part time job working for one of the chains so they can take advantage of the training on offer. The training could be in-house courses where the end reward is slightly more pay for your newly gained experience and knowledge or it could be nationally recognised qualifications such as Basic Food Hygiene. If you are studying a catering or food and drink based qualification at university, these extra qualifications and the practical experience you get whilst working in a catering environment can be invaluable for helping you get a job when you graduate.
Transferable Skills Can Be Used In Your Graduate Career
And as with any other student job you decide to do while you are at university, there are always transferable skills that you can take away with you and apply to whatever type of graduate career you go on to do. This could be in the form of qualifications or training that directly relates to your career or it can be skills you develop that you might not necessarily be aware of such as building your confidence in dealing with the public or making quick decisions under pressure.
So do you think a part time or seasonal job is a good idea for you as a student? If so, it's time to get proactive and start applying for jobs right now. Take advantage of all those company profiles above as they are packed with useful information, tips, links and some even have videos you can watch.

Leave a comment
You must be logged in to comment on this article.