It's no secret that job hunting can be stressful, time-consuming and demoralising. While prospects are looking up, with a steady increase in youth employment and initiatives including the abolition of National Insurance Contributions intended to support this increase, the job search is not without its obstacles and student job scams remain ever-present.
This blog will explore some of the most common scams targeting students including money muling, boiler room activities and multilevel marketing, to give you the insight you need to identify them and make sure you're not getting caught by the fraudsters. To begin with, here are some general tips that apply to every scam mentioned in this blog. While none are sure fire ways of identifying scams, spotting any combination of these characteristics should encourage you to properly research the position and company before applying.
1.)    Too good to be true? Scams are designed to be as enticing as possible. Be cautious of job descriptions that include phrases such as "dream position", "once-in-a-lifetime role" and job requirements that "perfectly match skill sets". A wage/salary far above your responsibilities should also have alarm bells ringing.
2.)    Not always promising. You should also be cautious of job descriptions that are poorly written, feature spelling or grammatical errors or appear amateurish. This includes details such as the email URL and imagery and logos used in the email.
3.)    Bypassing the formal application process or requesting more sensitive information are potential signs of concern. If you have been granted a position without an interview, or are asked to send a copy of your passport, driving license or bank account details before an interview, it is likely an attempt at identity fraud.
4.)    Be wary of requests for money. Requests for money for background checks, admin costs or employers asking you to transfer money on their behalf or for errands on receipt of a cheque should be taken very cautiously. This can be challenging as some legitimate employers do request payment for DBS checks, and other organisations do charge for training courses, as will be covered later in this blog.
–
Money laundering scams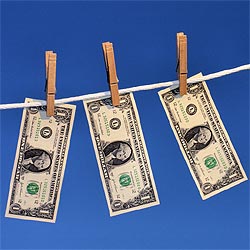 What to look for:
For the uninitiated, money laundering involves the process of disguising money in order for it to appear to originate from legal sources. These scams are operated by organised criminals and allow them and the proceeds of their crime to stay hidden while exposing vulnerable students who agree to work with them.
Money laundering is one of the most commonplace scams advertised towards students, with as many as 19 percent of approached students agreeing to the position.
The vacancies offer the opportunity to earn extra money in exchange for personal bank details. Money launderers will charge students with receiving a sum into their bank account, to be sent to an overseas account minus a small fee for the account owner to keep (the payment).
Prevention:
These are often advertised as managerial positions in:
Similarly with boiler room fraud, vacancies may state that you require no experience, skills or qualifications. They can also take on more altruistic forms including charities requiring help handling donations, art dealers dealing with overseas sales to simple book keeping.
You can follow the previous advice to verify the legality of a money laundering position advertised to you, however the University of Liverpool makes a very concise point: legitimate money-forwarding jobs like this do not exist. You should also be extremely cautious of vacancies that require you to share bank details at this early stage.
Something to think about:
There is another form of laundering that can occur that doesn't necessarily include money transactions. Goods handling scams, whereby you are instructed to receive goods to pass on to a third-party, are present and operate similarly to laundering scams. Although you may be wondering how you are a victim in this circumstance, keep in mind that under that the Fraud Act 2006 is still relevant and it is no longer necessary to prove deception; if you are involved, be it unwittingly, you may still be charged.
For more information, check out the e4s blog for examples of money laundering scams attempting to infiltrate our job board.
Boiler room fraud
What to look for:
Students and young people are often encouraged to take part in boiler room fraud – a phoney broker cold calling victims with high-pressure sales techniques into valueless, overpriced or non-existent commodities – by enticing them with abnormally high salaries with little or no requirements for experience or relevant skills.
Prevention: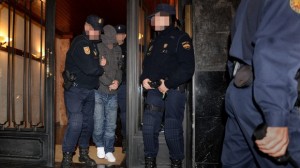 Fraudsters offering boiler room positions are known to advertise positions at recruitment fairs, student-targeted exhibitions and internet job boards, and the commodity on offer is known to fluctuate according to popular and alternative trends. SAFERjobs identified ongoing trends including land banking, precious metals and shares or similar financial products, and e4s urges students to be vigilant should these be mentioned.
Something to think about:
Although students are not specifically the victims of boiler room fraud, e4s greatly urges students to be vigilant against these vacancies. If you take part in boiler room fraud, either unwittingly or otherwise, you can be punished with up to ten years in prison and/or a significant fine.
In addition to the previous tips on checking the validity of a vacancy, you can also check to see if the company offering the position is regulated by the Financial Conduct Authority. You can also check out SAFERjobs and the Serious Organised Crime Agency's annex page detailing boiler room fraud, implications following the Fraud Act 2006 and the outcome for victims of boiler room fraud.
Advanced fee positions
What to look for:
In connection with fake vacancies, more on which below, a common scam against students is to inform them that they have been awarded with the vacancy at hand (usually involving a telephone interview), only to charge students for a number of variables such as credit and criminal background checks and training. Some will state that the money will be returned on successful completion.
These scams occur frequently, and students and graduates entering the job market are a key target for fraudsters, and student accounts of being taken in are commonplace online including Reddit and The Student Room.
Prevention:
The University of Manchester states that if you are being instructed to pay for training, equipment or stock, or other things directly related to the work, these are strong indications that it is a scam.
Questions you'll want to ask yourself and the company include what the fee is for, what you get from making the payment, what it does not cover and to be provided with a guarantee of work or earnings.
Something to think about:
Although there are numerous legitimate organisations that require students to pay a fee for membership to a database, for example film, theatre and television talent website Casting Call Pro, or to place your CV online, these are angled at providing people with ways to find work.
You should also keep in mind that it is legal for companies to pass on the costs of DBS checks to applicants, as well as charge or make deductions to new employees for uniforms and accommodation. Employers should be upfront with potential charges or deductions, but e4s would advise students to make your own enquiries so you have as much information available.
Phishing scams
What to look for: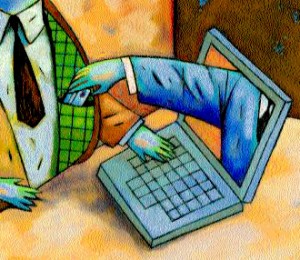 Unlike boiler room fraud and money laundering scams, where students are used to aid perpetrators, phishing scams directly target students as potential victims. Similar to fake vacancies and companies, they target students in an attempt to mislead them into revealing usernames and passwords to sensitive information.
This can take place under many guises – some of the most common involve emails from the Student Loans Company (SLC) or your institution requesting updated information to fraudulent vacancies that require you to sign up or share sensitive information in order to apply.
Prevention:
Most phishing scams are relatively straightforward to identify, with tell-tale signs including: beginning with "Dear student", as most are sent in bulk and therefore not personalised; poor spelling and grammar; a suspicious email address or one unconnected with the organisation it claims to be from; and an unusual amount of 'threat' – for example, sentences like "Failure to respond in 24 hours will result in your account being closed".
You can also omit unnecessary information from your CV without damaging your application. Details such as your marital status, National Insurance numbers and your date of birth are of little use to employers but can help identity theft scammers immeasurably.
Something to think about:
SLC recommends caution against all emails and text messages requiring you to volunteer information about yourself, stating their text messages "are to give information only" . The University of Sheffield also urged that students never respond to an unsolicited required for confidential information, and if in any doubt to contact the university through a trusted means of communication.
Fake vacancies/agencies
What to look for:
One of the most prolific issues stems from encountering fake vacancies from recruitment companies. Even a small number of legitimate recruitment companies and websites feature fake jobs – advertised positions that either do not exist or are impossible to get – in a bid to collect CVs and personal information and the more fraudulent requesting upfront payment for services including training and guaranteed interviews.
There are even reported accounts of fraudulent companies that advertise fake vacancies, charging applicants for "careers packs" and "administration fees" among others. Known scammers include Ian Johnson and Ronald Clark, banned from running an employment agency until 2020.
Prevention:
Identifying fraudulent companies can be a little easier, with the sheer wealth of websites that help you verify their validity. Firstly, a quick check on Companies House will inform you of their legal past and status. Looking through the company website can also be a decent indicator to their trustworthiness, as may a Google search to see if any websites or reports of fraudulence have been discussed.
Something to think about
Although much information found online suggests that all companies that charge for training with a confirmed interview at the end of the course are fraudulent, e4s urges students to be aware that there are a number of legitimate organisations offering similar terms and that this should be taken into consideration with other factors.
Premier rate phone applications
What to look for:
A very straightforward scam is to get students to apply for a job through a premier rate phone number, usually being placed on hold for extended periods of time. Although many companies use high rate dialling codes, you should be suspicious if there is no alternative method of applying; if you are unable to find an email address or postcode, it is likely that the company does not exist.
Something to think about:
The University of Gloucestershire Union states that most legitimate companies have a "lo-call", Freephone or landline number available, and Bangor University extends the warning to mobile numbers, which can lead to anywhere in the world.
For reference, premium rate phone numbers can begin with 0844, 0870, 0871, 0845 and 09.
Multi-level marketing positions
What to look for:
Multi-level marketing (MLM) positions have existed and thrived for several years. An important distinction to make is that these roles are entirely legal, despite comparisons with pyramid schemes.
However both have been heavily criticised by industry bodies, hedge funds, university professors and former participants and among the most infamous of MLM positions are undisclosed door-to-door sales roles. Firstly, from the vacancy, they are often listed as marketing or sales executive roles, often featuring those telltale signs of no qualifications or experience necessary, full training provided and earn money quick.
Applicants arriving for interview are very quickly given the job when they discover that the role was falsely advertised and are 100 percent commission, door to door sales jobs. There are numerous accounts of these roles, from forum posts on The Student Room to dedicated blogs detailing the writer's personal experience.
Something to think about:
Dr William Keep of the College of New Jersey School of Business commented that MLM distributors often lose money through continually buying products, if the role requires it, and paying for business support, training, leads, success seminars, coaching and other similar services.
Successful sales staff move on to managing a team of first-timers, although the Cold Calling Cult blogpost states that only one percent of employees make it that far, and with each employee listed as self-employed, students can easily end up working entire days for little to no pay.
e4s would like to reiterate that these positions are entirely legal, but would urge students interested in taking up MLM positions to research the roles, investigate the experiences of others and do not get caught in the misleading job vacancies.
Sexual exploitation
What to look for: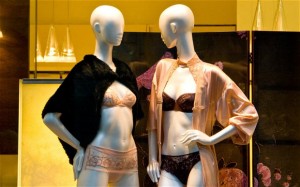 A small number of vacancies advertising a mixture of care, live-in and photography work can lead to incidents of sexual exploitation.  The most prolific are fake care positions and modelling work, where young people are required to work on location and/or for long periods of time.
Something to think about:
There is no acknowledged pattern to discern whether a care or modelling job will lead to incidents of sexual exploitations, and they are certainly not restricted to these categories, however e4s wanted to draw the possibility to your attention, and to urge greater caution when applying for these positions.
–
Since its inception in 2000, Employment4students (e4s) has actively campaigned and operated against student job fraud, from its rigorous requirements to hosting vacancies on the e4s job board and campaigning against scammers that target students through operations including money muling and fraudulent positions and charges.
If you would like to report a job scam, you can visit www.safer-jobs.com and join their campaign to tackle UK job fraud, as well as getting in touch with us at [email protected].
You can also check out our previous blog post on money muling scams as well as our co-authored piece with SAFERjobs CEO Keith Rosser with his top five tips to avoid student jobs scams.

Leave a comment
Comments currently closed. Tough break.