Introduction to Ski Resort Jobs
An increasing nuımber of winter sport loving people, whether they are students, graduates or young professionals looking to take a bit of a career break, are starting to think about taking up seasonal work in ski resort jobs. Although competition for ski jobs can be stiff, those lucky enough to land a temporary role in a ski resort job can spend a tiring yet rewarding few months working amongst spectacular mountain scenery around some of the world's top ski slopes.
I Like The Idea Of Working A Winter Season But I Don't Know Anything About Skiing
Just about anyone with the drive, enthusiasm and commitment to the job can work in a ski resort. It doesn't matter if you don't know your Alpine Ski from yourApres Ski or your Powder from your Hardpack, if you want to be one of the crowd and impress your workmates by using all the current lingo, you can learn that quietly and speak it as though you've always known it, even if you've never donned a pair of skis or stepped on a snowboard.

Working in a ski resort doesn't necessarily mean you are going to be bombing down the ski runs day in day out. In fact, some of the seasonal positions that are available in ski resorts leave hardly any time for skiing at all. These are the types of roles that are generally more difficult to fill - so for those students and young people out there who just like the idea of getting away from it all for a few months and enjoying life in the mountains, a temporary job like this could be just what you are looking for. Time on the slopes might be limited (and why would you care if you aren't particularly interested in snowboarding or skiing) but you can still make new friends and enjoy the sometimes very lively nightlife that ski resorts have to offer.

If you do manage to land one of these jobs working in a ski resort, you could always use any spare time that you do have available to maybe take some ski lessons and see if it's a hobby you might like to take up. Take a look at the E4S article about skiing tips for beginners so you can get a few of the basics before you leave, even if it is only in theory. By the time you've bought all the gear, paid for your flights, accommodation, insurance, lift passes and lessons, regular skiing holidays can end up working out very expensive - and then just imagine if you don't like it when you get there? Working in a ski resort job gives you the opportunity to put all this theory into practice for free as the vast majority of positions come with perks such as a lift pass and basic accommodation.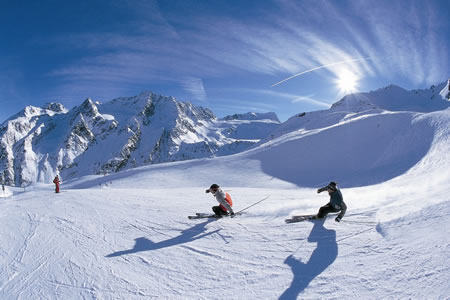 I Love Skiing And Snowboarding But, As A Student On A Budget I Can Never Afford To Hit The Slopes As Often As I Would Like. Is Working In A Ski Resort A Good Option For Me?
Finding work in a ski resort job can be the perfect way to spend more time indulging in perfecting your skiing and snowboarding skills whilst also earning a bit of extra cash to either squirrel away for when you return home to real life (many people describe life in the ski resort as the ideal escape from the real world outside) or to spend in the resort's bars as you party the night away with your new found skiing buddies.
Just like summer camps in the United States, the pay for work in ski resorts is not going to go very far in taking you to your first million but, if your first love is skiing and the mountains, the pay is not what you are here for. Working is a ski resort is a work-hard/play-hard lifestyle. Get your job done and, in return, most positions reward you with transfers, food, accommodation and lift passes. In any free time you have, the slopes are all yours at no extra financial cost. That's the main reason why competition for ski jobs is often tough. You are up against other students and graduates looking to do the same as you, young professionals taking time out from their career, and then of course, there are the professional seasonaires; those who have made a career out of returning to work in a resort, year after year, just so they can dedicate their winter to skiing or snowboarding the slopes.
Employment in a ski resort isn't possible for everyone. The main season for working in ski resort jobs in the western hemisphere is roughly December through to April. Obviously, if you are currently at university, you will have worked out that the ski season cuts right into your semester. Working a ski season in a resort is, however, a good option for gap year students or for those graduates and young professionals who need a bit of breathing space before deciding on their next career move.
Do I Need Any Special Qualifications Or Previous Experience To Work In A Ski Resort Or Can Anyone Go To Work In One?
Previous experience and qualifications depend on the country you want to work in, the type of ski resort you want to work in (some companies specialise in high end luxury ski holidays so your skills need to be at a higher level than they would have to be for more wide ranging skiing breaks) and the type of job you want to do. We have a more in-depth article about the types of ski jobs, pay and previous experience.

For students and graduates who are hoping to get a ski resort job just so they can enjoy the free time on the slopes, the key is to make sure you research the types of ski jobs available that will give you the time off to indulge your skiing passion. If you are one of those types of people, there's no point in applying for jobs that require you to work all through the day, only getting time off in the evenings when the slopes are closed.
What Type Of Work Can I Do In A Ski Resort?
As we said above, working in a ski resort job doesn't necessarily mean you have to be a skiing or snowboarding expert. Many young people are in love with the idea of being a ski instructor - out on the slopes all day, a cool outfit, all your ski students hanging off your every word. Unfortunately, becoming a ski instructor takes a significant amount of time and, on top of that, a significant amount of money that you might not have to hand. For those who would really like to be a ski instructor, you can read our more in depth article about how to go about earning your qualifications and the work you can expect after you have successfully completed your ski instructor training.

But if a winter season in the mountains on the ski slopes is starting to sound really appealing, don't let the fact that you haven't got the experience or the qualifications to be a ski instructor put you off. You could always undertake a ski instructor course with a company such as Alltracks in the famous ski resort of Whistler in Canada. As with seasonal jobs in summer camps and theme parks, there are also many other roles that students and graduates can undertake in a ski resort. Below, is a list of positions that can be available to gap year students and others who would like to work a ski season.
Depending on the size of the ski resort and the type of skiing and snowboarding holidays it provides, there could be openings for:
Chalet staff (some chalet staff are expected to cook for the guests)
Chefs - this could be in a hotel, restaurant or high end chalet
Cooks
Maintenance people - just think of all the possible things that need maintaining in a ski resort
Managerial and leadership roles such as resort manager and office management
Accountants and bookkeepers - someone needs to keep an eye on the financial state of the resort
General hotel staff such as receptionist or housekeeper
Childcare specialists - trained nannies are always in demand as are graduates or students who are studying for any type of qualification related to childcare
If you are part of a couple, you could look up companies that recruit couples to work the ski season - these jobs do exist
Bar work - this might sound appealing but can be very demanding. The longer you stay up drinking as a customer gives you an idea of the type of hours the bar person needs to keep
Driver or chauffeur - this can involve picking people up from the nearest airport and transferring them to their accommodation at the ski resort

Again, if you are interested in this type of winter seasonal work, you can read our more in-depth article about the types of ski jobs you can apply for in a resort.



Can I Choose Which Ski Resort I Work In?
It's easy to imagine yourself on the ski slopes of some of the world's most famous resorts, working the winter season partying the night away, maybe even with the rich and famous. But if this is the type of ski resort you are imagining yourself in, the chances are that all the other thousands of gap year students, graduates and young professionals have similar dreams to you - and this means more competition for the ski jobs you will be applying for. When you start to work in a ski resort job, you are going to be working very hard and making lots of new friends anyway - so in the end, the resort and the country it's in isn't too important.

There are a few countries that recruit British staff to work in their ski resorts. These include the United Kingdom itself (Scotland has ski runs and there are an increasing number of indoor ski centres across the UK), Canada, the United States of America, France, Switzerland, Austria, Italy, Spain, Andorra, Bulgaria, Japan and New Zealand. The resorts within these countries each have their differences, whether that's the more lively Apres Ski nightlife, a low key restaurant-based nightlife, family friendly accommodation and ski slopes, more challenging slopes for the experienced skiers and even luxury ski holiday specialists such as Alp Leisure.

Whichever type of resort you manage to get a ski job in, you can guarantee you will still find the experience rewarding. Don't forget to read more about the types of seasonal jobs gap year students and graduates can do when working in a ski resort.

Just like working in a summer camp in the United States of America, working in a ski resort job is demanding and tiring, yet very rewarding. You get out of it what you put into it. People who work in ski resort jobs go there for the lifestyle, the mountain scenery, to make new friends and to make the most of whatever free time their work allows by skiing or snowboarding on the slopes. If you would like to be a seasonaire (that's the lingo for a person who works a ski season in any resort) in any type of role, companies who recruit for these temporary roles are always looking for highly motivated people who are effective team players or leaders, people who are organised, proactive and dedicated. And, if you have any type of previous managerial or leadership experience, there could be a more senior role available to you, too (although, again, if you are going there in the hope of a bit of ski or snowboard time, check your hours before you accept the role).

At E4S, we advertise vacancies with companies who run ski resorts and recruit seasonaires. If you're a gap year student, a graduate looking to take some time out before embarking on your career or even a young professional looking to take a career break, keep an eye out on E4S for any upcoming recruitment dates. It will also be impressive in your application for potential jobs if you can be proactive and find out as much information as possible before you apply.

So what are you waiting for? Read the other E4S articlesto help you along the way and you never know, you could be working a ski season abroad or in the UK very soon...
Provence Classics
Provence-Alpes-Côte d\'Azur
Very Competitive
Camp America
United States
Up to $1800 for the Summer
EA Ski & Snowboard Training
Worldwide
Competitive hourly rate + benefits
EA Ski & Snowboard Training
United States
Competitive hourly rate + tips
EA Ski & Snowboard
Switzerland
Competitive hourly rate + tips
EA Ski & Snowboard Training
Canada
Competitive hourly rate + tips
EA Ski & Snowboard Training
New Zealand
Competitive hourly rate + tips
Parkdean Resorts
Saint Martin
Competitive