Everyone is talking about unpaid internships – which ones are illegal, do they just exploit students or are there any benefits with them?
If you look at the letter of the law – a lot of the unpaid internships offered are clearly illegal. If it's not a charity, and it's not work experience (where the employee has no obligations or commitments) and if it's not part of a university course – then minimum wage should be paid.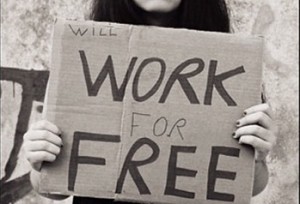 Sounds simple – but still there are a lot of companies that offer unpaid internships, and there are also students who apply for these type of positions.
What do you think though? Would you consider an unpaid internship – and what benefits would it have to have to make it worthwhile?
If you're interested in fashion and you get the chance to do an internship at a top fashion house – but there's no pay for you, would you take it? It could massively help with your career and get you some great contacts.
We're really interested in hearing what you think – and we'll be investigating this issue further to ensure that students don't get exploited. Let us know what you think in the comments section below!

Leave a comment
You must be logged in to comment on this article.