One thing that we all love as we pass through our day to day business on this planet, no matter what walk of life we are from, is a good old shortcut.
Why do things the long way round when there's usually a much quicker way to get to where you want to be in life?
When you are on the hunt for a student job, you want to have everything at your fingertips quickly so that you can keep on top of all the job searches you need to do, track the applications you've already made, get the latest careers advice and discuss the student job application process with like-minded people on forums.
That's why we've come up with a Google Chrome App for the e4s student job website which will have you with us in seconds! And, you'll be very pleased to hear that it's completely free of charge!
Google Chrome is the web browser most often used to visit the e4s website. Indeed, it is the browser of choice for well over a third of all our website visitors. So, we thought we would build this handy little app so that we'll be there waiting to serve all things student jobby to you whenever you open a New Tab in Chrome.
Google has recently made changes to the way it displays apps and extensions in the Chrome Web Store – and the changes have made it a little more difficult to find our app from their search facility. No worries, we can give you a direct route to it right here:
Install the e4s Student Job Chrome App Now
(If you aren't yet using Google Chrome then you will need to download it first).
Once you've installed the app, you will be just one click away from the e4s website when you open a new tab. We think we'll look rather pretty sitting next to some of your other favourite apps for Chrome…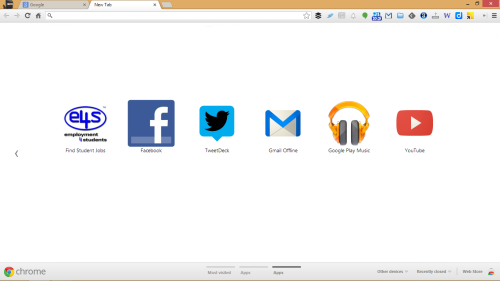 If you like our Student Jobs Chrome App then we would really appreciate it if you could do us a favour by giving it a quick review (and maybe a little +1 if you use Google Plus). Go on – it won't take more than a few seconds!
And, before you go…just while we're on the subject of shortcuts to student job success, why not subscribe to this blog so that you don't have to hunt us out every time we post? Whenever we update the student jobs blog, our brand-spanking new blogpost will turn up in your email inbox or favourite reader as if by magic.
Subscribe to the e4s student jobs blog now! Go on…you know you want to

Or, with Google Reader closing its doors very shortly, why not use the services of Feedly to follow us?


Leave a comment
You must be logged in to comment on this article.