SAFERjobs and Employment4students urge students to be vigilant against rise in job-related fraud into 2014
2013 showed signs of a recovering economy and the UK job market once again growing: excellent news for students considering their immediate and graduate future. However SAFERjobs, a non-profit forum founded by jobsites and organisations across the country including Guardian Jobs, Monster and the Metropolitan Police, urges students to remain vigilant following an increase in the volume and variety of job-related fraud within the close of the year.
With high-profile cases including the Gumtree gang successfully duping unsuspecting job seekers of £1 million by obtaining personal details through false job vacancies at Harrods and Newcastle University promoting a "sophisticated scam" through a fake office assistant vacancy with Anne McKenzie Properties as advertised in the student newspaper The Courier, SAFERjobs Chairman Keith Rosser has urged students – a group at high risk against fraudsters – to be mindful against future scams.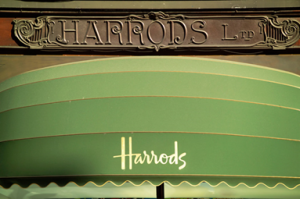 Rosser has suggested the following five-point process to keep in mind during your job search, and you can also check out E4S's blog post on how to deal with money laundering scams, as well as details on our internal process to prevent these kinds of vacancies from ever reaching your job search.
1.)    Do your research
Not only is this an essential process when researching positions ahead of applying and interview, it can also be a great way to verify the validity of a vacancy you might have your doubts about.
Websites such as Companies House can help acquaint you with the background of a company you're dealing with and check its legitimacy. Visiting the company website and double-checking the URL and email addresses for any slight permutations will help determine whether you might be dealing with a scam. Known phishing addresses including [email protected] and [email protected] may feature the brand in question but give clear indications that they are not affiliated with the company in question.
2.)    Working with a recruitment company? Use an accredited agency
"There are literally thousands of recruitment companies, from high street multinationals to one-man job boards," commented Rosser. "Over 5,000 are accredited members of the Recruitment and Employment Confederation (REC) and Association of Professional Staffing Companies (APSCo) and whilst this is no guarantee, both REC and APSCo have professional complaints procedures and audit most members, thereby giving the job seeker an extra level of assurance."
E4S has also strived to keep scam vacancies from its job board since its inception back in 2000: check out our blog post featuring some examples of scams that have been caught by our security process and well as information on how we detect and monitor potential fraudulent vacancies.
3.)    Face-to-face contact is always best
One common trait of employment fraud is that all communication is done through email, with occasional contact through calls. A genuine hiring company will make more effort to build a relationship with the job seeker, as well as screen a candidate's suitability – believe it or not, jobs that don't require an interview are not a good thing – and any approach for personal details or money prior to any face-to-face contact is highly suspicious.
Where the interview has been arranged as telephone-based, this should always be the interviewer calling you. SAFERjobs has marked a substantial increase in premium rate phone scams in 2013 which involves the job seeker calling a number at a specific time and being left on hold, and only subsequently discovering the inflated charges and duration after the call. Always ensure the interviewer calls you or, if certain it is genuine, check the number by comparing it to office numbers on the company website. Ultimately, if in doubt, do not call.
As a general rule, you should never disclose personal information, be it bank or identity details. If in doubt, begin suggesting a face-to-face meeting to progress the application. Speaking of handing over information…
4.)    Requests for information or money
We've been reiterating the need for caution regarding potential fraudsters attempting to obtain your personal information and bank details, and it is perhaps the most obvious sign that a job offer is spurious. If using a recruitment company, there are only a few valid reasons when job search services can be charged for but in all cases is positioned to the job seeker as an optional choice. Here's one vacancy caught by the E4S alertotron: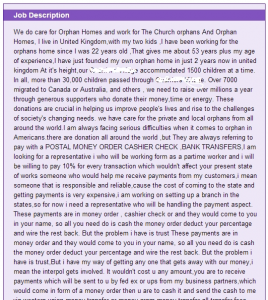 Never hand over money or personal information until the job offer has been made and contract issued and you have conducted sufficient research to be confident in the company. When dealing with an agency, personal details are only required once the formal registration has begun and any request for money should be an option for the job seeker in connection with a work-finding service.
Rosser added: "We commonly see advance fee fraud for spurious job seeking services such as CV writing, required training as part of the potential role, visas, telephone-based interviews using a premium rate number  or by requesting bank details ahead of any job."
5.)    If it looks too good…
Finally, that most straightforward piece of advice. If the job offer seems too good to be true, it probably is. Obvious signs include verbiage such as "EARN MONEY FAST", "EARN CASH FOR WORKING AT HOME" and "GET RICH QUICK" and while they may be high priorities for most people with heartbeats, student jobs are rarely the source of such material enlightenment.
The previously mentioned Anne McKenzie Properties scam that had one Newcastle University student's bank account temporarily locked enticed students with a promise of £15.00 per hour on basic duties including "filing/paperwork; taking customer payments; light cleaning".
Although the vacancy was well-written, applying students were quickly asked to act as a personal shopper for an employee allegedly based in New Zealand and the salary offered proved too tantalising a hook for students eager to earn during their studies.
SAFERjobs has also been actively campaigning against the prevalence of too-good-to-be-true scams in their latest form: via LinkedIn. Often accompanied by fake profiles – usually young women – advertising roles or job posts originating from unofficial LinkedIn profiles of existing recruiters, hundreds of positions advertising "High Salary Executive Positions for Students" and "Earn cash from home" positions are posted on LinkedIn or directly sent to students.
While some are undoubtedly genuine, extreme caution should be exercised when answering such a post. Be sure to cross-check any information given through the company website, as well as examining the economics of the task you're asked to do: if your salary is vastly higher than you believe the task to be worth, it might well be.
SAFER will feature in the forthcoming BBC programme Fake Britain in an episode covering fake jobs, and you can get involved with SAFER by visiting www.safer-jobs.com and SAFER's LinkedIn group to share your fraud stories and information, and get practical advice on making sure you're not the next student job seeker to fall foul of the fraudsters.
You can also check out www.e4s.co.uk for the latest in student jobs in your local area, as well as visiting our blog at www.e4s.co.uk/blog for hints and tips on the student job search including further advice on how to avoid student scams.
Company details:
SAFERjobs is a non-profit joint industry and law enforcement organisation aimed at tackling employment fraud. As an information business the way we do this is by sharing information across the industry to ensure the recruitment industry is constantly learning and developing, with law enforcement, supporting job seekers who have been a victim of fraud, and by education job seekers of the potential pitfalls.
SAFERjobs is highly privileged to work with the Metropolitan Police and National Crime Agency (NCA), both in having a reporting function and an advisory group.
E4S is the UK's most visited student jobsite for undergraduate work. With over 60 percent of students using www.e4s.co.uk and links with over 750 universities, colleges and educational institutions, E4S is dedicated to providing job opportunities, career advice and money saving deals to students across the UK.
Launched in 2000 by two university students in the wake of the introduction of tuition fees and the abolition of student grants, E4S has developed into a market leader in student employment.

Leave a comment
Comments currently closed. Tough break.