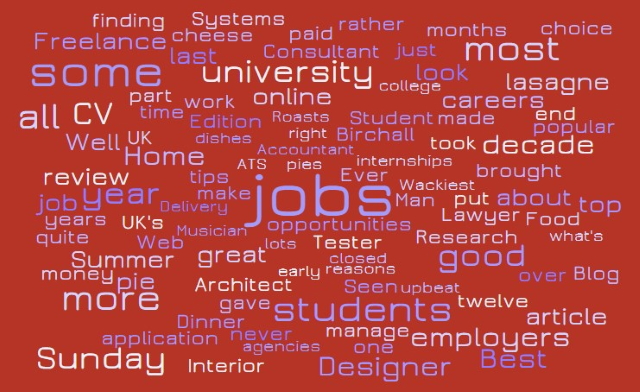 Well, that's a wrap! The end of another year – and the end of a decade too!
We've brought you some very useful articles on our student jobs blog throughout 2019, so let's tie it all together and review what's been happening in the last twelve months…
Careers Advice For 2019
It's always a good idea to review your CV on a regular basis. Things are changing all the time in the UK jobs market – from entry level jobs right up to graduate careers – and what worked perfectly well on your CV a few years ago might not cut the mustard as we move into the 2020s.
A good place to start in the quest to future-proof your CV for the next decade is this October 2019 article about why your CV might be getting rejected at an early stage. The article focused on internships in particular, but the advice holds good for most other job opportunities which students will be interested in.
Earlier in the year, we concentrated on the digital format of CVs rather than the written version.
With recent estimates suggesting that 3 out of 4 online applications never reach the desk of a human, we gave you some advice on how to get your CV past the pesky robots which man the gates of online job application systems such as ATS (Applicant Tracking Systems).
Graduate Outlook 2019
Back in March, we took a look at whether or not 2019 could be a great year to graduate. As it happened, recruiters were feeling quite upbeat about the year, expecting to increase their graduate intake by more than 9 per cent on the previous twelve months.
Commenting on the hiring plans of the UK's top 100 graduate employers, Martin Birchall of High Fliers Research, said: "Our latest research shows that despite all the continuing uncertainty over Brexit, the UK's top employers are planning to recruit a record number of new graduates in 2019."
"The growth in graduate vacancies for 2019 is the highest for nine years and there are more opportunities than ever before for university undergraduates to do paid work experience with the country's leading employers," added Mr Birchall.
To put you in the best position to land a good career after leaving university we also told you what NOT to put in your covering letter for a graduate application and gave you some tips on How To Get Your Foot In The Door With The Most Reputable Employers Worldwide.
Unusual Summer Jobs From The Last Decade
On a lighter note, we took a look at some of the weirdest and wildest summer jobs we've seen over the last decade.
How do you fancy doing one of these (genuine) jobs?
Pet Food Tester

Greek Cat Minder

Water Slide Tester

Chocolate Taster

Hoofstock Keeper

Watch Paint Dry

Netflix Watcher

Underwater Pizza Delivery Man
You can read lots more about all of those rather strange-sounding positions in our July article, 8 of the Wackiest Summer Jobs We've Ever Seen.
The Best Freelance Jobs For Students – 2019 Edition
With gig economy jobs taking off, and students finding more and more ways to make money from home, we brought you an updated 2019 edition of The Best Current Freelance Jobs For UK Students.
We found that the most popular freelance jobs as of February 2019 were:
Photographer

Musician

Architect

Actor

Online Researcher

Lawyer

Interior Designer

Web Designer

Graphic Designer

Landscaper
But, 'most popular' doesn't necessarily equate with 'most money'. The best paid freelancers, with their potential annual earnings were:
Lawyer (£57,293)

Investment Consultant (£50,000)

Software Developer (£42,500)

Architect (£42,500)

Music Teacher (£40,860)

Business Consultant (£38,256)

Yoga Instructor (£37,546)

Accountant (£37,500)

Interior Design (£37,500)

Web Designer (£37,500)
Off To Uni In 2019
And for those of you who were hoping to leave college and head off to university in 2019, we had some advice on alternatives to clearing if you didn't quite manage to get the grades you were looking for.
If you did manage to get into the university of your choice but are struggling to make ends meet then, apart from finding some part time work directly from the e4s website, we also highlighted some reasons why staffing agencies can also be a great choice for students.
Finally, as part of a Tastecard giveaway competition (now closed) we asked you what food from home you would most miss while you were away at university.
And, if the Twittersphere is anything to go by, then it looks like students are huge fans of Sunday Roasts, pies and Italian dishes. Here are just some of your responses!
"Home made apple pie"
"Lasagne"
"Shepherds pie"
"A Sunday roast with all the trimmings"
"Home made veggie lasagne"
"Has to be a Sunday Roast!"
"Roast Chicken Dinner"
"Homemade cheese and onion pie"
"Mum's lasagne"
"A proper roast – I can never be bothered to do one!"
"Spaghetti and meatballs with a mountain of cheese and fresh basil"
"Roast dinner"
"Yorkshire puddings"
"The good old Sunday roast!"
Think the Sunday Roast just edges it…would you agree?
Well, that's all folks! We hope you've had a great 2019, and we look forward to bringing you more top job tips, careers advice and relevant news snippets in the 2020s…
If you don't want to miss anything then it's a good idea to subscribe to our student jobs blog by email at the top right of this page so that we can send along our latest musings to your inbox.

Leave a comment
You must be logged in to comment on this article.